The founder of Sandvik
Sandvik's founder, Göran Fredrik Göransson (1819–1900), grew up in a shipping family in Gävle, a town located about 170 kilometers north of Stockholm. He was the oldest son in the family of three girls and four boys. It was a strict but fair upbringing and he learned at a very early age that all people are of equal value. In time, this was reflected in his manner of building and developing the company as well as the municipality around it.
Göran Fredrik Göransson's respect for other people was also expressed in everyday actions. On one occasion, when the theater in Gävle was completely new, one person present pointed out that it was inappropriate that a house-painter was sitting side-by-side with the "finer" families in the first row. The future consul replied: "They have paid the same amount for their seats as the rest of us, so they have the same right to sit here."
Learnt several languages
As a 19-year-old, Göran Fredrik, unlike his brothers, had already developed into a broad-shouldered man, with distinct characteristics of strength and stubbornness. Despite his calm and confident exterior, he had a fiery temper that could disappear as quickly as it came.
He worked at the shipping company's office, but his father considered that he should travel to acquire experience of conducting international business. Consequently, at age 19, he was sent to Germany, then the UK, the US and France. The young Göran Fredrik gained practical experience working for the company's business partners, at the same time learning the languages of the various countries he visited.
He spent a total of eighteen months abroad. On his return, he was full of ideas about the company's future development and focus. However, because of his youth, he did not have the courage to present his plans at the time, but gradually, and with Göran Fredrik's growing influence, the company moved successively from the shipping sector to become increasingly involved in wholesale operations, primarily involving steel and iron goods.
The foundation of Sandvikens Jernverk
On May 31, 1842, he married Betty Sehlberg and they had four sons and two daughters. His eldest son, Anders Henrik (1843–1910) was to play an important role in his father's future activities, but one of his other sons, Albert, also participated until his all too premature death. The other children chose different paths.
Iron and steel became a considerable portion of the wholesale company's operations. This included the purchase of the entire annual production of pig iron from the Högbo Bruk, which was then sold in the global market. In the mid-1850s, Göran Fredrik increasingly understood the importance of greater involvement in the production process and, accordingly, purchased all of the Högbo Bruk. This acquisition would subsequently lead to a completely new company being formed in 1862 – Sandvikens Jernverk (Sandvik since 1972).
Naturally, Gävle figured in the discussions of where the new steelworks was to be located, but was regarded as unsuitable for several reasons. Instead, the choice fell on the nearly completely uninhabited area where Sandviken is now situated. The proximity to the mines, which could supply ore, and the forests, for coal deliveries, were two deciding factors for the location. Another significant aspect was the possibility of digging a canal and creating hydroelectric power. Consul Göran Fredrik made a relatively unusual statement for the time, namely, that the new plant was to be constructed for steam operation.
Good conditions for employees
The area on which the company was constructed (1862) was completely undeveloped apart from two buildings. One building was a farmhouse, which was bought by the company and later used as a school for the expanding community. The other building belonged to the railway company. It was also purchased and turned into the head office. This old building still exists today and is adjacent to the current head office, which was constructed in 1891.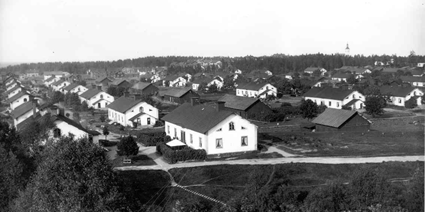 View over the surroundings in the year of 1897. Photo: Elvert Eriksson's historical archive.
Labor was now required. The small personnel in Högbo that was able to move to Sandviken was far from sufficient. It was also necessary to recruit workers from other mills. By offering favorable conditions for families, such as high wages and pleasant housing, it was possible to attract the most qualified labor. It was decided at the very beginning that all workers would have their own apartments with a room and a kitchen, as well as a separate entrance. Each family was also to have part of a garden for growing vegetables.
Consul Göransson's role in the emergence of this community can hardly be overestimated. As early as 1862, five buildings were constructed to house four families each. Three years later, 13 buildings had been completed. An inn was also built in the years that followed to receive the guests that started to visit. In the area of healthcare, a store of medical supplies was also established at the head office, where all employees and their families could receive free medicine. Firewood was also provided free of charge.
Extended social services
To create a living environment that was as pleasant as possible, avenues of trees were planted, with a different kind of tree in each street. The water supply was organized, with water pumps on selected street corners. Special buildings were constructed, one for each street, where families could wash their dirty clothes, bake crispbread and brew their own beverages.
Production increased at an even faster pace, as did the number of inhabitants in the new community. This, in turn, brought increasingly high demands to expand the social functions. It was no longer viable to transport sick and injured to Gävle, so a cottage hospital was established and, just after the turn of the century, a sanatorium was also added.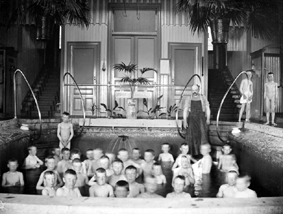 The bathing facility, interior from 1904. Photo: Elvert Eriksson's historical archives.A pharmacy was built, as was a bathing facility. Everyone could go there at least once a week to wash themselves completely clean. To ensure that the daughters of workers' families learned how to cook good and nutritious food, a home economics school was organized, then a reading room with a small library, needlework classes for girls and, in 1908, large theater premises were built.
This community development cost a large amount of money and there were years when the company invested more in the community than in the workshops.
The eldest son, Anders Henrik Göransson, who assumed the management of the company from his father, showed the same respect for all people as his strict but fair father had done. When the Valhalla theater premises were complete, they were handed over to the workers to use as they wanted. This brought criticism from conservative circles in Gävle. The response was that "Everything can be shown in Valhalla's stage, but not everything must be applauded." This means that censorship was also handed over to the workers. However, there was a superintendent to ensure that traveling theater groups did not present shows that were of too low quality.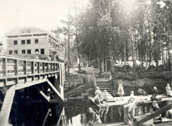 Women washing clothes in the Kanal. Photo: Sandvikens Kommuns Central archives.When grandson Karl Fredrik (1879–1960) took over management, the company continued to take care of its employees. In the 1920s, he introduced the "Wednesday Club." These were meetings of representatives from company management, salaried employees and workers, where issues were discussed that primarily involved work, but also the community. All members were encouraged to present their views, positive and negative, without the risk of reprisals. The minutes of these meetings have been preserved to this day.
Investment in a sports arena
One of the final major investments in the community that Sandvik made during this period was the construction of the Jernvallen sports facility. It was completed in 1937 in time for the company's 75th anniversary. In terms of the number of kinds of sports that could be practiced there, the arena was the largest and most modern sports complex in Europe. During the soccer World Cup in 1958, Jernvallen hosted two matches. The arena is still used for top-level sports.
In the spirit of Consul Göransson, Sandvik remains a responsible employer, with a major commitment to the work environment and personal development. The long periods of service that employees achieve before retirement is proof that wage-earners and salaried employees appreciate the company. In the old days, the active employment period could be as much as 60 to 70 years, but even nowadays, some remain for as long as 40, sometimes even 50 years.