Getting to the bottom of battery challenges
Haley Blinn likes a challenge. It's what brought her to Sandvik and made her opt for an engineering career in mining – a field that she never imagined for herself but enjoys immensely. She's even overcome her old fear of mines and ventures underground whenever the opportunity arises.
One could say that Haley Blinn is stereotypically Canadian: she lives in a town that is predominantly known for its mining and minerals – and she's into hockey.
A degree in physics and math
But Haley Blinn is anything but typical. She graduated with a degree in physics and math from the prestigious University of Toronto, was a three-time silver hockey medalist in the province of Ontario, writes music, plays the saxophone, and is a prolific knitter.
"My grandmother taught me to knit. Knitting allows me to be creative and productive while relaxing and listening to a podcast or watching my favorite video game streamers. I usually gift what I knit. When you receive a knitted gift it's meaningful because so much time goes into it."
And then there's that very Canadian activity – hockey, which Blinn has played all her life.
"Everyone recognizes it as a very Canadian thing to do and we are proud of it. Hockey brings people together."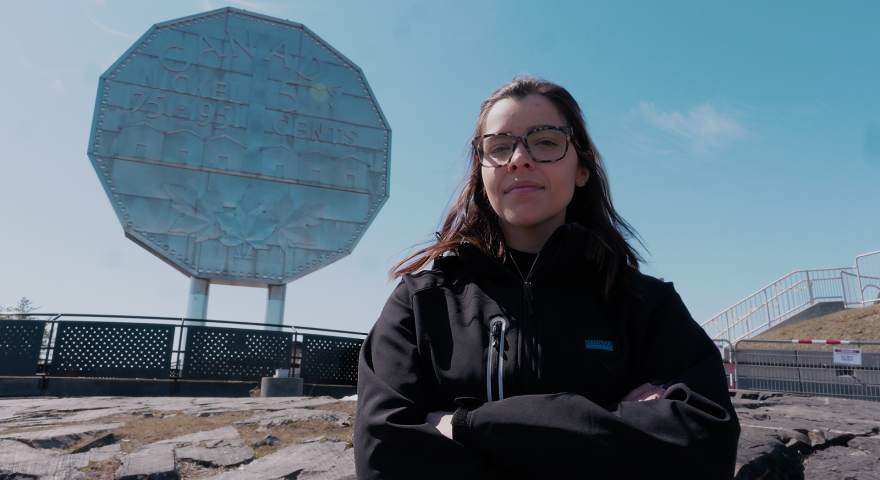 It also brings Blinn's family together, with a hockey-playing brother and a father who coached her from the age of five. "I was on girls' teams as well as on all-boys' teams. There was always a place for me and that was empowering," she says.
A knee injury put an end to the competitive playing, but she still skates and plays hockey for fun. "Hockey encourages teamwork and collaboration which you can translate into a career," she says.
Today, Blinn works at Sandvik in Sudbury, Canada as a BEV or Battery Electric Vehicle Engineer. She spends much of her working time performing studies for customers to determine the technical and economic feasibility of implementing BEV ore haulage fleets in their mines.
"There are many drivers which determine how feasible a BEV fleet may be, and every mine is different, so these studies are really important for customers," she points out.
Working for Artisan Vehicle Systems
Haley Blinn began her career as an R&D intern working for Artisan Vehicle Systems, a company acquired by Sandvik in 2019 that specializes in battery electric vehicle solutions for underground mining. The experience, which included studying ways to repurpose retired battery cells from mining, resulted in a decision to put grad school and physics on the back burner.
"I felt stimulated and challenged in engineering," she says, which is one of the reasons why she began working at Sandvik full time in 2022.
She's even overcome a fear of being underground. "I hated the thought of it but now I love mining and underground is one of my favorite places to be," she says, adding that working at Sandvik provides plenty of opportunities to visit mine sites and spend time underground.
"There are infinite career paths and learning opportunities within the company and I get exposure to different mining applications and have contact with customers all over the world which is exciting. I really like travelling too, and working at Sandvik enables that."
Will soon be releasing a blog
Blinn also does some writing for work and will soon be releasing a blog about battery solutions and electrification. In fact, it was her previous blog, which included topics such as being a young woman in the male-dominated mining industry and dealing with workplace politics, that caught the eye of her manager who found a way to make use of her writing skills at Sandvik.
"Another reason why I decided to work at Sandvik is that a lot of women work here. It speaks volumes of a company when you have a diverse workforce and good company values with training in diversity and inclusion."
3 quick questions
What do you envision yourself doing in a few years?
I'll still be at Sandvik hopefully. I want to remain in a tech role and that can mean anything at the company – project engineer, data analytics, programmer… there are infinite career paths.
What message do you have for prospective Sandvik employees?
You don't have to have a mining background to be impactful in the industry. Anyone who has a passion for solving things has a place here.
Why do you enjoy problem solving?
I want the users of our equipment to have the best possible experience from a cost and engineering perspective.