Susanne Norgren is the brain and driving force behind several of the sharpest tools produced by Sandvik. Her ability to find innovative solutions to material problems is valued in gold – most recently through the prestigious Gunnar Wallquist Bergsmedalj.
Behind the Sandvik cemented carbides for finishing machining operations and steel turning, or PowerCarbide®, the advanced materials technology that can optimize any drilling operation, lie hundreds of hours of research, countless small innovative developments and many patents to protect the discoveries. These are just two of many cutting-edge technologies where Susanne Norgren's ability to combine theoretical calculations with practical experiments has had a huge impact on the end product – ensuring longer grinding intervals, fewer bit changes and improved safety for people working within rock technology.
"I think that's my thing, to switch between deep diving to get the answers and keeping a helicopter view and visionary focus on where we are heading," says Norgren.
Over a hundred patents
Her enthusiasm and love of tackling technical problems to create the materials of tomorrow has resulted in hundreds of patents with her name on it, but for Norgren, it's the teamwork behind these that's most valuable.
"Most important for me is that we succeed in transforming our ideas and solutions into products that are released on the market. That's what puts Sandvik in the forefront in the industry as well as in the research field, and what makes us unique as a company," says Norgren.
She is known to be a team player, and her enthusiasm and willingness to find solutions is contagious. It's about unlocking creativity, she explains. Her own curiosity helps. She is very good at asking questions to help others find new angles and solutions.
"I have fantastic colleagues with whom I can discuss any difficult technical problem and exchange ideas," she says. "Most important is to build trust. You can only get that free discussion that leads to new solutions when everyone in a team feels safe. It also makes the job so much more fun."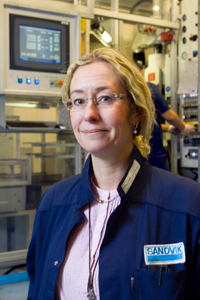 Her personal journey into the world of calculations and models in R&D and strategic research started with an interest in chemistry and physics. By studying material design at KTH Royal Institute of Technology she could combine them both. However, the studies only made her more curious and after graduation she obtained a doctorate in Material Science and Metallurgy. Norgren keeps one foot in the academic world, at present as adjunct professor in Production and Materials Engineering at Lund University, where she spends 20 percent of her working time teaching, researching and supervising doctorates. In her view, collaboration between industry and academia is purely win-win.
"To keep our competitive edge, we need to focus on the future, but no matter how clever the solutions we present, to be of use, they need to fit the industrial and societal needs. The industry-academia ecosystem is essential for us as a company as it enables us to rephrase our queries to better understand the underlying research question. Increased knowledge and understanding from a purely scientific angle benefits not only us but also the greater community," she says.
The first time a woman receives the medal
In March, Susanne Norgren will be back at KTH, this time to receive Professor Gunnar Wallquist's Mining and Materials Medal – an award only handed out every ten years. This is the first time the medal goes to a woman.
"It's very unexpected and I am deeply honored. Hopefully this will inspire more women to step up and join the industry. But, as with everything else, I would not have been able to achieve this without all the people that have walked by my side," she says.
3 quick questions
What is the best thing about your job?
That I can work with really difficult technical problems and solve them together with myclever colleagues. It's such a privilege to continuously get to explore new and innovativeissues in all our business areas, from machining and rock drilling to 3D printing and everything in between.
How do you build the most creative team?
Make sure you have a safe environment where thoughts and people are allowed to flourish. Keep an open mind. Stay focused. Have fun.
What is your main focus at present?
The trend towards sustainability, electrification and the green transition as this puts enormousdemands on recycling, processes, applications and new materials