Breaking new ground in India
Sushma Nainawat's love for people, numbers and big machines has made her a pioneer in India's male-dominated mining industry. At Sandvik, she is a valued business line manager for three business divisions.
Female representation is increasing in the mining industry but achieving gender diversity is proving to be a slow process. Sushma Nainawat, business line manager for the Load and Haul, Underground Drilling and Digital Mining Technologies business divisions in India, says that despite her 15 years in the Indian mining industry, her presence is still sometimes met with skepticism and, when she visits customers at mining sites, she still encounters a lack of washrooms for women.
"In many cases I am the first woman to have visited," says Nainawat. "It has been necessary for me to break down [gender] barriers and set an example for others to follow."
When Nainawat joined Sandvik as business line manager in 2021 she already had several years of experience in selling machining equipment for other international companies in India. Big machines have always been an attraction and a driving force for Nainawat who has operated all of the equipment Sandvik offers its mining customers and knows how every machine works.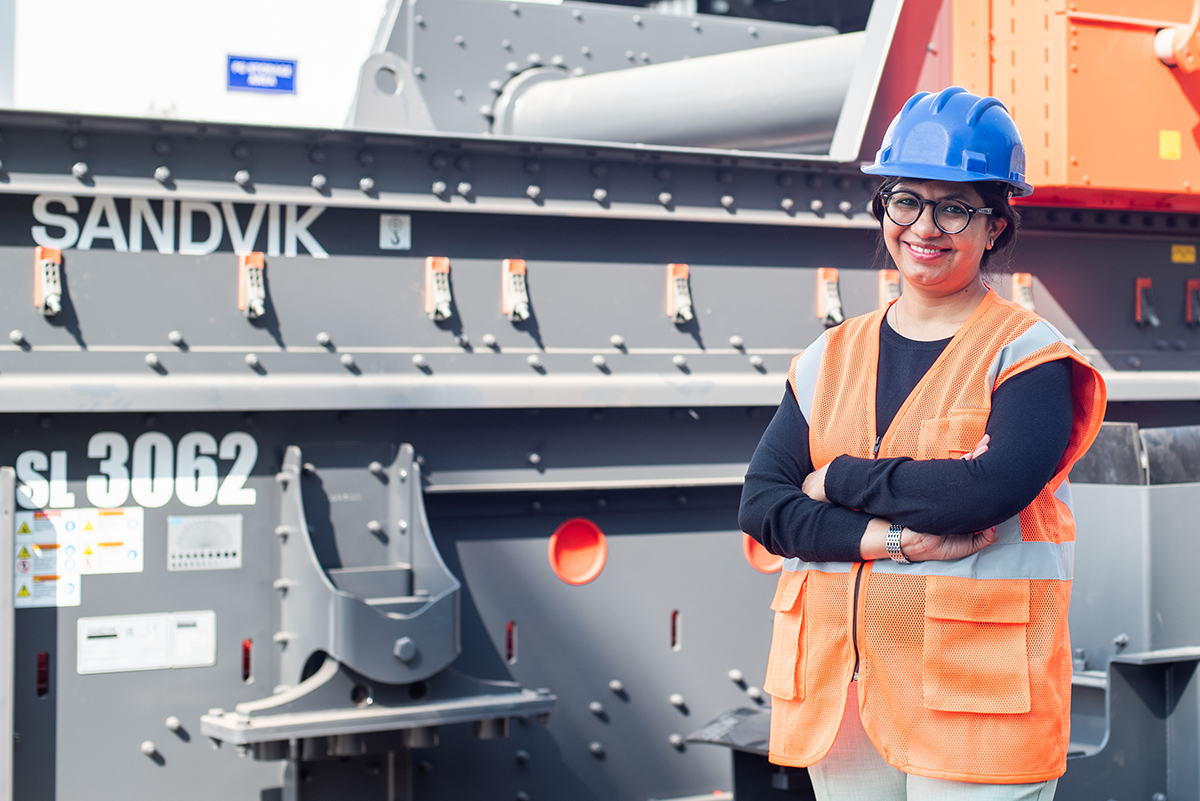 Leading by example has been an essential part of her leadership style. "If I don't set an example, I think it would be very difficult for the teams to recognize me as a leader," she says. "For me, a good leader is a person who can motivate, inspire and set very clear goals for the team.
"As a leader, the more aware you are of your own abilities – your strengths and weaknesses – the more successful you will be at leading others and helping them to utilize theirs."
Her strength, Nainawat says, is her ability to connect with people. Her weakness is her tendency towards impatience. "I am working on that. I don't want to micromanage and I am keen to make sure the team knows what is expected without me hovering over every detail."
Her role as manager for three divisions means that her teams are spread across the country. Good communication skills and the ability to truly listen are vital, since meeting on a regular basis isn't feasible.
"Managing and growing your team is not only about trusting them and giving them responsibilities," Nainawat says. "It is also about understanding the challenges they are facing and making sure they get the help they need to deliver."
To strengthen and help team members to grow, she works a lot with guidance, mentoring and feedback. This provides her with an understanding of what is needed and allows her to follow up on progress. "It's by growing people that we grow our business and feedback is a very effective tool. I also work a lot with job rotation, to encourage my team members to try new roles. In addition, I encourage participation in our mentorship and training programs, to improve skillsets."
One of the team members that Nainawat has encouraged to take on new responsibilities is Gunshekhar Kunwar. "When I realized that he could take on more than he was already doing, we started giving him more responsibilities," she says. "We did this gradually, to make sure he was comfortable with it."
Kunwar started at Sandvik three years ago, as a manager working with automation and digital mining technologies. Today he is Key Account Manager for one of the company's largest customers, as well as for technology products, such as battery electric loaders and trucks. Kunwar reports directly to Nainawat.
"Moving into this new role, I have been gradually introduced by our management to the end stakeholders," says Kunwar. "I have been given lots of training opportunities through the online learning platform, sales skills enhancement training though the global training center, and there are site visits planned for next year."
One of the things Kunwar says he appreciates most about Nainawat's leadership is accessibility to management and smooth communication, ensuring that everyone shares the same vision and has a clear view of goals and expectations.
"That access gives us valuable insight into future strategies," he says. "At the same time, we know that what's communicated at ground level also reaches the top. The fact that I can approach Sushma, both for personal issues and business requirements, makes her very different from other leaders I have worked with. The human connection is always there."
A privately owned mining company, which specializes in mining zinc and silver, is the biggest customer of Sandvik. It is a dynamic market, where often the biggest challenge is to predict customer movements in order to be prepared for possible leads.
"Even in today's dynamic market situation, Sushma is there to look after the team," says Kunwar. "Her focus is always to motivate."
Sushma Nainawat agrees. "If a situation fails, it's more important to focus on a plan B or even a plan C. If I am not able to inspire my team to find another solution, there is no point having me as a leader," she says.
As a mother of four-year-old twins, Nainawat is often asked how she balances work and family. "I tell people that I have an on and off button for home, as well as the office," she says. "Like most women I am good at multitasking. But the fact that I manage to handle three divisions is thanks to my business teams, my manager and leadership team. I support them and they support me. It's a combined effort."
Name: Sushma Nainawat
Role: Business Line Manager for three business divisions in India (Load & Haul, Underground Drilling and Digital Mining Technologies)
Located: Pune, India. Joined Sandvik in May 2021
Family: Married, with four-year-old twins
Favorite hobby: Reading biographies and traveling around the world
Secret superpower: Ability to easily connect with strangers