Resilience through agility
Navigating the ups and down of a fluctuating economy is essential to drive growth and ensure profitability. Being "agile through cycle" is a strategic objective in the Sandvik "Make the Shift" strategy.
To be "agile through cycle" is one strategic objective in the "Make the Shift" strategy of Sandvik. In a rapidly changing world, agility is becoming more important than ever, says Cecilia Felton, Group CFO. "The goal is to achieve margin resilience," she says. "To reach that goal, we need a business model and an organization that is both flexible and agile in managing changing market conditions."
Cecilia Felton, Sandvik CFOWhat does it mean to be agile through a business cycle? For Sandvik, it is about being flexible and managing both the upturns and downturns effectively in line with macroeconomic changes. The key measurement for success is the new margin goal, announced in May 2022, of an adjusted EBITA* margin ranging between 20–22 percent through a business cycle.
Previously, the goal was for the EBIT* margin to be at least 16 percent. Felton explains how the new goal was defined. "The new financial target states what we think is a good performance for Sandvik through a business cycle," she says.
Get back on track
"The EBITA corridor is to be seen as a guidance for when additional corrective measures may be necessary and what may not be seen as long-term sustainable margins. In some quarters we may have an EBITA margin below 20 percent, and we will then take action to get back on track. We may also go above 22 percent in certain quarters, but it will be difficult for us to maintain over a longer period of time in the markets where we are present."
Sandvik has been able to achieve strong agility for quite some time. What is the secret? Felton points to three major factors. The power of a decentralized organization means that we keep our ears close to the ground and quickly act on market intelligence gathered in the field. "We also have a rigid performance management system where we are on top of our numbers. And we always have contingency plans in our back pocket if things should take a turn for the worse."
Building a resilient top line
Agility at Sandvik started with focusing on increasing the share of variable costs through, for instance, increasing third-party personnel and satellite production. "However, agility means so much more. It all starts with building a resilient top line through, for example, recurring revenue streams like aftermarket services and subscription contracts for software and digital services."
During the Covid-19 pandemic, agility meant being flexible in operations and logistics to navigate around the various restrictions and lockdowns. Now, in times of high inflation, agility means proactive price management.
"Agility is relevant in all phases of a business cycle and we need to be able to handle upturns as well as downturns in the best way possible," says Felton. "Ramping up production requires smart decisions on how, when and where a capacity increase should be implemented."
Sandvik is unique in being able to combine hardware, such as mining equipment or metal- cutting tools, and software solutions like mine planning or tool logistics. This combined offering and the benefits for the customers it brings strengthens the position of Sandvik as a supplier of choice both in upturns and downturns. However, a majority of its businesses are exposed to cyclical markets, and therefore agility is key.
"Mining is among the first to be affected in an economic downturn when metal prices and demand drop," says Mats A. Eriksson, until recently President of the Load and Haul division and since October 1 President business area Sandvik Mining and Rock Solutions. "Then operators must adjust to the new situation. Conversely, rapid economic growth often leads to a shortage in commodities."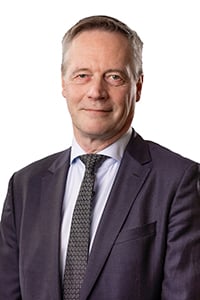 Mats A. Eriksson, President business area Sandvik Mining and Rock Solutions
To stay on top of things, Load and Haul builds agility to counter cyclicality through a host of preemptive measures. "One basic cornerstone is to build an operation that is both agile and flexible," says Eriksson. "When adding new capacity, for example, we make sure to include third-party contractors and other outside sources in the mix. We define what core competencies we need to own and what can be done by others." Many areas, from product development to vehicle painting or inventory and factory logistics, can be handled by external contractors. In building an optimally lean organization, the key is to focus on the minimum requirement, not the maximum, says Eriksson: "In times of rock bottom, what is the minimum capacity required to keep customers happy and avoid a margin erosion?"
Build operational flexibility
Other ways to build operational flexibility include cultivating alternative supply chains and trying out new logistical solutions. In an uncertain world, where supply chain disruptions and component shortages have become increasingly common, agility requires fallback options. "We are witnessing a global geopolitical shift at the moment toward more regionalization," says Felton. "We need to evaluate what this means for Sandvik going forward."
Predicting the future is an uncertain art form, and Sandvik practices contingency planning to stay agile and be prepared for any event. "We plan for several scenarios in each of the divisions and at Group level," she says and comments: "Even if the outlook of the general economic situation may appear bleak, we should also remember that every downturn also brings opportunities. You may just have to look a bit harder to find them."
EBIT
Earnings before interest and taxes (EBIT) is used to analyze the performance of a company's core operations without tax expenses and the costs of the capital structure influencing profit.
EBITA
Earnings before interest, taxes and amortization (EBITA) is another widely used indicator to measure a company's financial performance and project earnings potential. It takes depreciation costs (goodwill) into account when calculating operating profitability.