Leader in the Spotlight: Ann-Sofie Andersson
Good leaders come in all shapes. Some don't even consider themselves as potential leaders. One of them is Ann-Sofie Andersson, CFO at the Additive Manufacturing division.
Ann-Sofie Andersson's team at Additive Manufacturing describes her as a solid, open, honest and business-minded finance leader with a talent to get things done. Does she agree? She does.
"I might not be the type of person that immediately owns the room, but when I speak, I have noticed that people listen," Ann-Sofie says. She adds that she also would describe herself as responsive, empathic and good at listening.
"In a large organization like ours it's essential to understand that considering different perspectives is what brings us all forward," she says. "It's also important to understand that being humble and open to the diversity of ideas offered by co-workers does not contradict having authority."
What does Ann-Sofie like most about her job? Her team, of course.
"We make a fantastic team where everyone contributes with different competences and personalities," she says. "It's a privilege to work in such a mix of ages, genders and backgrounds. Together we form something greater."
Additive Manufacturing is a relatively new division at Sandvik. One challenge facing the management team has been the change of direction for the organization. Initially, Additive Manufacturing was a small R&D unit in the central R&D organization on the Group level, set up to create an understanding of the new 3D techniques. Since then it has grown, and in 2017 it became a division within SMS. Ann-Sofie joined as CFO in 2018 and is responsible for the financial processes. She works with consolidation, analysis and performance management for the entire division, locally as well as on a global level.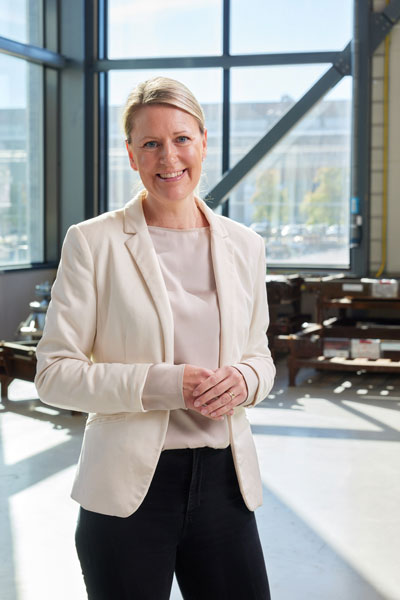 "The organizational transformation has made it extra important for us to have clear and well-defined goals – to get the entire organization to move in the same direction," she says. "Our ability to change and follow new paths and never take anything for granted has become one of our greatest strengths."
Ann-Sofie has 17 years of experience in different roles within Sandvik, but it took several years before she started to think of herself as a potential leader, even though many of her colleagues turned to her for advice and in many ways she acted as an informal leader.
"Maybe I was stuck in 'leader type' stereotypes, but I hesitated a lot before stepping up," she recalls. "Once I did, though, I realized that in an organization as large as Sandvik, there is great diversity among the people in management positions and that everyone should be able to find leaders to identify with."
One of Ann-Sofie's own role models is colleague Mikael Schuisky, Business Unit Manager AM Services at Sandvik Additive Manufacturing. The appreciation is mutual.
"Ann-Sofie is not only incredibly good at following up all aspects of our business, but she is also a great sounding board and an open and honest person with a great heart," he says.
This is not mere flattery. In a small organization such as Additive Manufacturing, Mikael says, these are essential skills and attributes that make a difference. "If you spend a lot of time together, why not spend that time with people who care for each other," he says.
The past three years of pandemic restrictions have highlighted the importance of working in an organization where people look out for one another.
"The pandemic has shown how we all want to contribute, even if we are forced to work from home," Ann-Sofie says. "There are many ways to meet and reach out, even if we have to meet digitally rather than in person."
Both Ann-Sofie and Mikael emphasize the necessity of trust within an organization.
"Good leadership is built on trust, and on a trust that goes two ways," says Ann-Sofie. "Gaining the confidence to solve a task makes us all grow, but we must also build a culture where it is OK to ask for help or even to make mistakes."
Mikael adds, "It is important to create a culture where we stand up for each other and where we are all prepared to take that extra step to reach our goals. That can only be achieved with trust and with a big heart."​
Ann-Sofie Andersson
Role: CFO Additive Manufacturing division
Location: Sandviken, Sweden
Tenure: 17 years with Sandvik and four years in current role
Family: Husband and 19 year old son, plus two dogs.
Favourite hobby: Spend time in the summer house by the lake Storsjön close to Sandviken
Secret superpower: Keeping secrets