"We're genuinely a family"
Their first software was called "Meghan," named after the founder's daughter. Now she runs the company. Meet Meghan West, the CEO of Sandvik-acquired CNC Software.
Meghan West is a CNC digital native. Two weeks before she was born, her father started the company where she is now the CEO. The company, a Connecticut-based CNC software company, is best known for its Mastercam® suite of applications, but the software was called "Meghan" for the first few years of the company's existence. She was interested in the company's operations from an early age. When she was growing up, her father came home and brainstormed with her about the business's challenges and opportunities.
At age 14, she accompanied her father to Japan on what she considers her first business trip. She credits hundreds of mentors who have helped shape her career, including people from the company's reseller network around the world, some of whom she has known since she was a teenager.
Women in manufacturing
With applications that drive CNC machining tools, CNC Software operates at the intersection of software and manufacturing, two historically male-dominated industries. West says gender was never an issue when she was growing up, and she has been fortunate not to have encountered the type of resistance that faces many women in those fields.
Part of her role as a leader now, she says, is to show other women that they can succeed. "The more exposure women have to see other women in manufacturing or software, and more importantly in leadership positions, the more they believe that it can happen for them as well," she says.
"We talk a lot about the diversity of thought," she says. "Without women in manufacturing, we miss out on half the population's input into an industry that impacts our day-to-day lives."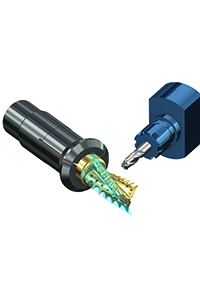 How did CNC Software become the leader in CAD/CAM software?
Part of it was good timing. We got into the industry right at the beginning, when CAM was starting to take off. The other reason we became so widely used was that we developed a reseller network. We sell to resellers around the world, and they sell and support the product and the software locally in their territories.
What special value or knowledge does CNC Software bring to Sandvik?
First, there's our extended reach in the CAM market. We bring a level of understanding of what it takes to satisfy our customers. The second value would be our reseller network. We have the most technical, business-savvy and successful reseller network around the world in the manufacturing industry.
How did you come to be involved with Sandvik?
We have been partners with Sandvik for a long time. We have coordinated projects together to develop tool paths that work well with the Sandvik tool brands. Partnerships are an important part of the manufacturing industry.
What are the advantages of connecting with Sandvik?
Sandvik has a similar approach to the customer experience and the manufacturing industry. For them it's not just about revenue, it's not just about a business, it's about a passion. Mastercam® is extraordinarily successful at creating an evolutionary product. But when it comes to the revolutionary, to looking at things that are truly innovative or big technology changes, we did not have the resources or the capacity to be able to do that. Now we have got the best-in-class diversity of thought that we're connected to. We have people who are genuinely passionate about making sure that the manufacturing industry gets delivered the best experiences and the best products.
How would you describe the corporate culture?
They say that companies tend to take on the personality of their leaders. My dad started the company two weeks before I was born, so I literally grew up in this industry and this company. My mom was the CFO and my uncle was the vice president. They all work hard and understand the importance of a strong work ethic, but they also like to play hard. I still consider the company very much a family. We are not just a company – we are a group of individuals who are going through a unique experience at any given time. Leading with compassion and putting people first are the things that make it feel like we are genuinely a family.
What is your view of the digital landscape?
Currently there are a lot of individual products that communicate with each other, but the connection is clunky. I see the digital landscape of the future as a seamless dance between products so that the end result is a user experience that is intuitive, efficient and pleasant for the user. We are up against these experiences for millennials and the next generations of virtual reality and cloud experience and instant gratification. I see our products needing to follow up to that, making sure our users have the best experience they can have.
How do you envision the manufacturing industry in a few years?
We saw so many industries suffer in the pandemic, while manufacturing was strong and healthy. The reason is that manufacturing is a critical component of humanity's ability to exist. We need to manufacture things, and that's only going to continue to expand. More players will get into the digital landscape, with more innovative technology. This industry is customer-driven. We can't put out wild and crazy products that customers aren't interested in using. I think Sandvik has said it best: We are partners in the industry we serve.
Meghan West
Title: CEO and President of CNC Software
Background: Bachelor's degree in marketing from Bentley College, master of business administration in management from Hawaii Pacific University
Age: 38
Lives: In the U.S. states of Connecticut and Hawaii
Family: Husband and two children, ages 10 and 7
Interests: Hiking and paddleboarding in Hawaii