An inspiring work environment
Originally a mechanical engineer from Finland, Jere Laitervo is now working as a strategic marketing expert in Germany as a result of his participation in the Sandvik Global Graduate Program. "The graduate program provides a full overview of the company and allows you to build a network that wouldn't be possible in a normal entry-level job," he says.
Having grown up in Turku, Finland, and studied Mechanical Engineering in Tampere, Jere Laitervo got a job in Research & Development with a Finnish engineering company. But he soon became aware that his interests were pulling him in another direction.
Jere Laitervo found his interest via a work environment that allowed him to try different functions.
"My Dad, an engineer, has been a role model for me, and as a kid I was eager to understand how things worked," says Laitervo, adding that his focus increasingly shifted towards industrial engineering over the course of his studies.
Bird's-eye perspective
Since Sandvik is a major employer in both Turku and Tampere, Laitervo was familiar with the company but it wasn't until a fellow student joined its Global Graduate Program that his future path became clear: "Hearing about the opportunity to do rotations in different locations and functions and to obtain a bird's-eye perspective of the organization, I knew it was for me," he continues.
Jere Laitervo's first rotation in the Global Graduate Program was at the Loading and Hauling division in Turku where he worked at the project management office, developing projects and product management processes. The second rotation was in Tübingen, Germany, in a digital transformation project at the Walter division. Finally, he went to Sandviken, Sweden where he completed a market study on new materials and applications for future business for Sandvik Materials Technology.
A work environment full of fun and challenges
The program gave him a clear picture of what he wanted to work with.
"I enjoyed my time at Walter so much that I decided to come back to Tübingen after the program."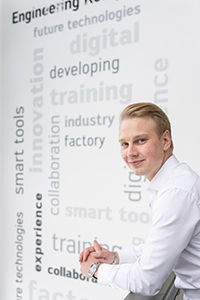 Jere Laitervo is currently less than a month into his new role as a strategic marketing expert at the Walter division, a machining solutions company with customers in 80 countries. He works with forecasting, including invoice planning and mid-term planning, as well as market analysis and benchmarking, to support Walter Tools' sales and strategy work.
Jere Laitervo says the Global Graduate Program delivered the right mix of fun and challenges, emphasizing that the learning modules, during which the graduates came together for intensive learning programs for a few weeks at a time, were a particular highlight.
"We did workshops, projects and self-development activities, and were also joined by speakers from Sandvik senior management. It was a privilege to meet so many interesting people and build a network within the company," he comments.
Making the shift
So, how does a newly recruited graduate think engineering can make the world a better place, as stated in the Sandvik common purpose and narrative statement: "We make the shift – advancing the world through engineering".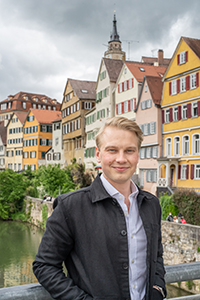 "I think this purpose is very fitting! Engineering is a series of small, incremental changes that compound to a larger shift. This is exactly what Sandvik does; from more sustainable products for us and our customers, to being an appealing place to work and attracting new talent who will carry the changes into the future."
For Jere Laitervo, a future in engineering may be a no-brainer, but he is aware that other people of his age might not share his passion.
"I would encourage people to give engineering a chance," he says. "An engineering degree is one of the most versatile qualifications you could ever have if you want the freedom to find out where your interests lie. Just look at what I've done ‒ the opportunities are almost limitless!"
Jere Laitervo
Age: 26
Based: Tübingen, Germany
Education: Bachelor's and Master's degree in mechanical engineering from Tampere University Of Technology
Work: Strategic marketing expert, Walter
Hobbies: Snowboarding, mountain biking, and getting back into playing soccer after a long break.
Want to know more?