An inspirational and global culture
Nicole Xu grew up in China and Sweden and studied in the United States. With her global background, the Sandvik Global Graduate Program seemed like a perfect fit. Inspiring colleagues and committed leaders have strongly contributed to a great experience and is what makes Sandvik special.
Nicole Xu studied finance, IT, and management information systems at the Purdue University in the U.S. After graduating in 2019, she wanted to work for a multinational company with a rotation program that would allow her to try a variety of roles and build different skillsets. Her choice fell on Sandvik.
"Sandvik's setup was my favorite because of the opportunity to explore different functions, business areas and countries," Nicole Xu says from her current office in Stockholm, Sweden.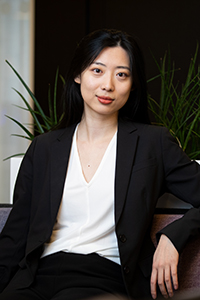 Nicole Xu
Practical coaching
"Although I was in different parts of the business across the world, they all had one amazing thing in common. The business leaders I encountered were willing to invest their time in their busy days to give me practical coaching in day-to-day hard skills and share reflections on their career paths. From valuable lessons learned to constructive and genuine feedback", she continues.
Born in Shanghai, China, Xu moved to Sweden with her family at the age of six when her parents relocated there for work. Five years later, they returned to China. When the time came for her to go to university, she set her sights on the U.S.
"My parents had both gone to school in the U.S. and wanted me to experience the learning environment there," she says.
Before applying for the graduate program Nicole Xu had heard of Sandvik Coromant but she has since gained a broader insight into all the different areas Sandvik is involved in.
"When I told people I was joining Sandvik, some of them had this preconceived notion that engineering companies are boring or old fashioned," she says. "However, Sandvik is actually an incredible innovative and adaptable company with strong R&D and digital offerings – and we're making huge strides in sustainability and diversity. I think it's important to convey this message to the outside world so we can continue to attract more talent from different backgrounds and generations."
Nicole Xu completed three rotations within the program: the first in post-acquisition integration at Sandvik Machining Solutions in Shanghai, the second, with the Sandvik Mining and Rock Solutions compliance team in Amsterdam (although Nicole worked remotely from Shanghai due to travel restrictions), and, the third, working on a mergers and acquisitions project with Sandvik Materials Technology in Sweden.
Upon completing the program earlier this year, Nicole was due to become an Internal Auditor, which would have involved visiting different Sandvik sites and auditing their processes. With travel off the cards for now, she has instead started out as a Group Control Analyst within Group Business Control. Nicole says she is grateful for all the backing she has received.
"One great thing about Sandvik is that, as long as you are curious and willing to learn, everyone is supportive and gives you the opportunity to explore your interests," she says, emphasizing that the thing she has appreciated the most so far has been the opportunity to work with and learn from the "inspiring teams and down-to-earth managers" within the organization. "I've been extremely happy in the Global Graduate Program and would encourage anyone who has the opportunity to experience it."
While Sandvik has a rich history dating back to the 1860s, Nicole Xu views the company as one with an eye firmly on the future.
"When people talk about creating a better world, they can have a vision but, to make it a reality, you will definitely need engineering. That's where Sandvik comes in," she says, adding: "Sandvik is constantly looking to the future and what can be improved, and then delivering it through cutting-edge technology across all the areas we're involved in – from aerospace to medical, automotive and advanced materials."
Nicole Xu
Age: 26
Based: Stockholm, Sweden
Education: Bachelor's degree in finance, IT, and management information systems
Work: Group control analyst
Hobbies: Watching detective series and exploring different sports and food
Want to know more about our Graduate Program?