A solution-driven stance
June 23 is International Women in Engineering Day. We talked to Celina Kaji in Brazil about her career choice.
Why did you seek a position at Sandvik Coromant?
Before graduation I never thought I would want to work in machining, but then I got a job as a manufacturing and production intern in a unit that machined heads and blocks for engines, and that changed my mind. I knew about Sandvik Coromant as a customer, as I was around Sandvik Coromant tools daily. I had meetings to talk about performance and projects and learned a lot from the company's specialists. I even took the tool trainings the company provided, so when an opportunity came to work there I took it. I knew working in a factory environment would be a challenge – it's an area with few women and it requires a lot of technical knowledge – but I also knew that the people I would be working with would be supportive and willing to share their knowledge.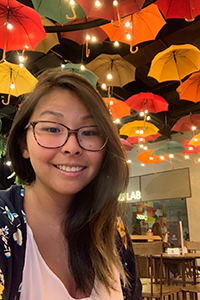 Celina Kaji admires other women in engineering and sees her friends in that position as her role models.
What do you like most about being an engineer?
The way we think about problems. We're solution-driven. We define a target and think about all the possible paths that can get us there, building a process and using data for decision-making.
When are you the most satisfied at work?
When I can properly explain a technical question and the fulfillment that comes when I solve a problem.
How do you think the industry and universities can attract more women to engineering studies?
In university we're seeing more and more women looking to occupy places they know they can belong, but they need a support system – family, friends and faculty – to tell them they have potential, to help them look for opportunities and not suggest to them that gender is a barrier in the admission process. That matches with finding a company that is going to embrace women in the industry. It's not enough to talk about diversity and inclusion. People in the work environment must believe it and practice it daily. You lead by setting an example, by not questioning someone's capabilities or achievements because of their gender. A woman has to feel comfortable to do her job well.
Why did you want to become an engineer, and how did you go about achieving that goal?
Growing up I've always been more into math and physics, so engineering seemed an obvious choice. And my family was supportive. Never once did they say that I couldn't become an engineer or that I should choose a different profession.
Did you have any role models?
My female engineer friends are my role models. Whenever one of us is feeling down or having doubts about our career or the jobs we have or want, the others are there to offer support.
What was your engineering education?
I took a civil engineering course for three years, but then I switched to production engineering, graduating from Mackenzie Presbyterian University in São Paulo.
If it's an area without many women, be the one who opens the way for others.
What did you do in your first job as an engineer?
After graduation I worked in a startup as a market/data analyst, doing reports, planning activities and providing forecasts and support for the operational and retail teams.
What has been the biggest challenge for you to get to where you are now?
Believing I'm just as capable as any other engineer.
What is your best advice to a young woman thinking about a career in engineering?
If it's something you feel passionate about, go for it! Foster ties with other women who are going to support you and root for you and find a place where you feel competent and comfortable. If it's an area without many women, be the one who opens the way for others.
Tell us about your future. What do you want to do ten years from now?
I'm still trying to figure that out, but for now my goal is to gain a lot of expertise in machining and general engineering and create a solid career.
Celina Kaji
Age: 28
Title: Application Specialist – General Engineering and Round Tools – Sales Cluster Brazil, based in São Paulo
How long at Sandvik: Since November 2020
Interests outside of work: Volunteer work for NGOs and institutions
Want to know more about Sandvik Coromant?