When Åsa Wiklund began at Sandvik it was still called Sandvikens Jernverk AB. Employees wrote with pen and paper and were paid in cash. Now, 50 years and many changes later, Wiklund is celebrating her retirement from the company.
Åsa Wiklund's five-decade career began in 1971 at Kanthal before the company became a division of Sandvik, which happened in 1997. Wiklund started in the mailroom, as many new Kanthal hires did. Wiklund recalls that the mail room was huge – and for good reason.
"Every day very heavy sacks of mail were delivered to us," she recalls. "We had to open them, sort the mail and distribute it throughout the day. In the afternoon, we collected the outgoing mail and posted it."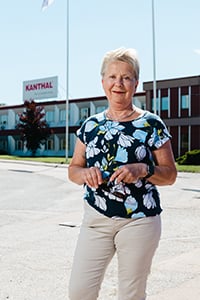 Åsa Wiklund, 2021
About a year after Wiklund was hired, she moved to a new position as a secretary in the department that manufactured screws and nuts. From there she went on to work in the shipping department where she made a new acquaintance – the telex. "No one knows what a telex machine is today," says Wiklund. "It was like a typewriter where we could write directly to the U.S. and all over the world. However, you had to write fast, because it cost a lot to be online."
Great typing skills
Wiklund's now highly developed typing skills came in handy in 1974 when she took a position in the human resources and education department, the department she has stayed with ever since.
"It meant a lot of typing," she says. "Other people handwrote what they wanted to say and then I typed it."
During her 50 years with the company, Wiklund has experienced many changes. She recalls the switch from manual to electric typewriter ("that was nice!") and the much bigger change to computer. In fact, she was the first secretary at Kanthal to get a computer – a Macintosh. That was in 1984, and it was, says Wiklund, "a milestone." There were other big changes – the corporate language was switched from Swedish to English, the company moved from only producing wires to producing resistance materials, and it made vast improvements in safety, from soft hats and regular shoes to hard hats, safety shoes and flame-resistant clothing. Still, for Wiklund, the introduction of the computer was the biggest change.
"There's just so much one can do with computers today, tasks that previously had to be performed by several employees," Wiklund explains. She points to the ordering system and the punch cards. "All orders were calculated manually with calculating machines," she says. "It required a lot of people working, taking the orders, calculating them and sending them back to the customers. It was a long process. Today you just send an email."
The punch cards kept track of employees' working hours and were collected and registered so that everyone was paid correctly. "When I began working at Kanthal we were still paid in cash," she recalls. "Every second week the salary department had to count the salaries. Then the janitor was sent to the bank to collect the money to pay all the employees. He went alone – with a gun!"
Work-life balance
Work-life balance was important to Wiklund, especially when her children were small. "I had the opportunity to work less when they were small and could scale up to full time when they grew bigger," she explains.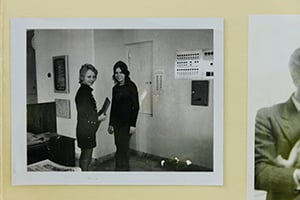 From Åsa's album.
Also important to Wiklund was the company culture. She says the atmosphere at Sandvik is collegial and everyone is free to speak to everyone else, and although it is a very big company, it's a company that "sees" each employee. Plus there are many opportunities to try different tasks and positions, creating great variety.
"It has been a very long journey," Wiklund says as she reflects on the past 50 years, "but it has gone very fast. It feels like yesterday that I started working."