Diversity stimulates innovation
Diversity serves any discipline well – not the least of which is engineering. Sofia Hansson believes a mixture of gender and background brings dynamic innovation to the table.
"Working with people from all over the world and seeing great ideas turn into new products and solutions is never boring," says Sofia Hansson, head of Tube R&D at Sandvik Materials Technology.
"There are so many interesting and challenging problems," she says. "I like the products we have and I like that we are a global company that invest a lot in R&D. And I really like the people I work with."
Growing up outside Sandviken, Sweden, with a father working at Sandvik, a career with the largest local employer might seem to have been a natural choice. But the truth is, working as an engineer was never part of Hansson's childhood dreams. She envisioned herself becoming a journalist or veterinarian. After finishing high school, she took a year off to work as an operator at the tube production facility at Sandvik and everything fell into place.
"I liked the pulse of the production environment," she says. "The combination of how you use different processes to obtain certain properties in products appealed to me, as well as how we were able to solve customer problems."
But the role as operator was not enough for Hansson; she wanted to do more, understand the fundamentals better and solve problems. Further education was a given, and she went on to get a degree in engineering physics at the Royal Institute of Technology (KTH)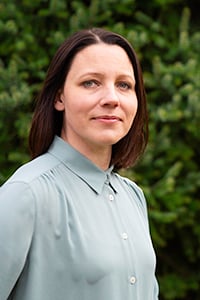 Hansson wishes more young women would understand that there are lots of different opportunities within engineering.in Stockholm. She did her master's thesis at Sandvik and was offered a place as an industrial PhD student at a research school in metal forming.
For a few years she combined working as an engineer at Sandvik with her research in computational modeling of manufacturing processes and earned a PhD in material mechanics from Luleå University of Technology.
Since then, Hansson has worked herself up through the Sandvik hierarchy and, since 2010, has held different management positions. The latest one-and-a-half years she's been head of Tube R&D.
"At my present job, I work both strategically and operationally at the same time," she says. "We have a good strategy and vision for a way forward that I like. And I have the opportunity to work with a team of highly competent and dedicated people."
Being a woman in a male-dominated industry has never bothered Hansson. "I don't really think about it," she says. "I don't feel that I have ever been held back because of my gender, or received any benefits because of it, for that matter. However, when you work as a team, you get more dynamic interaction with a mix of people. With a more diverse workforce, I believe we could solve problems better and stimulate innovation."
Hansson wishes more girls and young women would understand that there are lots of different opportunities within engineering, depending on what you like.
"I believe the general picture of engineering – that you have to be a bit of a technical nerd, that you work alone a lot and solve problems alone – is false," she says. "Generally, it's not like that. I like teamwork and collaboration. I also feel that I haven't closed any doors, that I can still become whatever I want."
Hansson says she believes getting more information to young women about the opportunities within engineering as well as more women in leading positions within the manufacturing industry are two important steps to obtain a more equal workforce.
"When I started as an engineer, my first manager was a woman," she says. "She believed in me and encouraged me to take on my first manager role. That was important to me."
Sofia Hansson
Age: 41
Lives: Gävle, Sweden
Family: Partner and two sons, 9 and 6 years old
Interests: Alpine skiing, tennis, outdoor activities
Tips to young women: Seek information about engineering. Read up on local internship programs, such as Tekniksprånget, a Swedish governmental initiative. Take on a summer job. Ask lots of questions.