Stefan Widing: Future-proofing Sandvik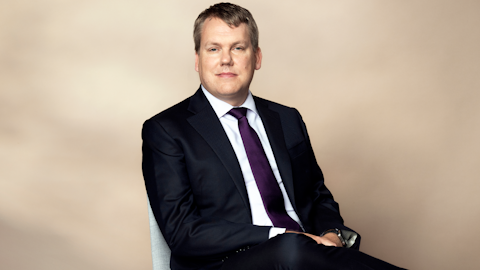 From electric mining equipment and digital component manufacturing to eco-efficient rock processing: President and CEO Stefan Widing outlines how Sandvik will excel in tomorrow's world.
Over the past few years, the Sandvik Group has undergone a major transformation. Parts of the Group have been divested and in 2022, Sandvik Materials Technology, its steel and alloy business, was separated and listed on Nasdaq Stockholm as Alleima. There have also been many acquisitions in areas such as software solutions, solid round tools, medical and ground support.
For Stefan Widing, President and CEO at Sandvik, the transformation is part of a plan to future-proof Sandvik and strengthen the company in selected growth areas.
A unique combination
Widing sees growth opportunities for Sandvik in all of its core business activities. "Within component manufacturing, for example, we will continue to invest and drive growth in our traditional core business, and we have made several round tools acquisitions," he says. "But there are also exciting new developments related to cutting tools for the medical sector and for lightweight materials."
These include the manufacture of micro precision tools used in the automotive, aerospace, energy and medical sectors, for example for cutting holes. "The medical segment in particular is growing throughout the world, driven by macrotrends such as an aging population and a growing middle class," Widing says.
Widing envisions component manufacturing as an automated process, from start to finish.
Adding software solutions is a natural step, and together with our knowledge of the machining process, no one will be able to do a better job than us.
"We come from the hardware side with our cutting tools where we are number one in the world. Adding software solutions is a natural step, and together with our knowledge of the machining process, no one will be able to do a better job than us. Our combination of hardware and software is unique," he says.
Sustainable mine of the future
The growing demand for metals and minerals provides growth opportunities in the mining and rock processing industries as well, says Widing. "We expect the very good growth in mining to continue for decades, and as the number one company in the world within mining equipment and mining solutions, [CS1] we are in a very good place."
Digitalization and automation are strong drivers in the mining sector and Sandvik has strengthened its offering through innovations and acquisitions within, for example, mine planning, ground support and battery diagnostics.
Sandvik is also the world leader within electric mining equipment and even if it accounts for a small portion of the company revenues, Widing foresees excellent growth opportunities.
"We see a clear trend towards electric mining equipment, which currently accounts for more than ten percent of new orders. We have therefore set a tentative target that at least half of the underground equipment we sell will be electric in 2030."
Eco-efficient rock processing
Sandvik Rock Processing Solutions is the Group's smallest business area, but here too, growth opportunities are positive, and directly correlated to the need for more metals and minerals, says Widing.
"You can't get minerals out of the mine if you don't crush the big rocks into smaller rocks. Crushing and screening is also essential for infrastructure projects, like building roads and houses."
There are sustainability aspects to crushing as well. Old concrete from buildings, for example, needs to be crushed and sorted before it can be reused. Another aspect is the correlation between crushing and grinding in the value chain. After the crushing phase comes the grinding where the stones are made even smaller, in an extremely energy-intensive process. "The finer you can crush, and exchange grinding with crushing, the less energy you will use," Widing points out.
Continually innovating
Innovations are as important for the growth of Sandvik as acquisitions, and maintaining an innovative culture is critical for the future, says Widing.
"Sandvik is built on innovation. We need to continue to invest in R&D but in the end, it's about the culture of the company. Early in my career I worked with agile software development. It taught me a lot about the importance of having a culture and leadership model where you trust the teams and let them figure out how to do things in the best way."
There are plenty of growth opportunities in all of Sandvik, he adds. "Ten years from now, I believe Sandvik will be described as one of the world's leading industrial technology companies."