Digital goes deep
Science fiction meets reality in Tampere (Finland), where digital mining technologies are being tested underground, and new software offers 3D visualizations of mines that have yet to exist.
Mining is one of mankind's oldest endeavors, as crucial to the development of civilizations throughout history as it is to the energy transition that is required today. Digitalization holds the key to cleaner, safer and more productive mining operations. At Sandvik, automation, electrification and digitalization combine to change the face of mining.
Laura Hokkanen, Test Mine Digitalization Lead at Sandvik Mining and Rock Solutions, believes digitalization is vital in helping mining operators solve the ever-increasing safety, productivity and profitability challenges.
We're launching new digital solutions to help improve safety, reduce environmental impact and optimize efficiency and profitability
"From autonomous and connected equipment, to data analysis and process optimization, we're launching new digital solutions to help improve safety, reduce environmental impact and optimize efficiency and profitability," she says.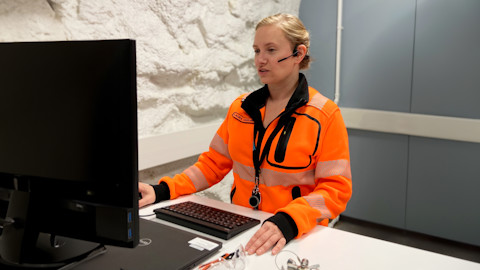 Automated and autonomous products
AutoMine®, for example, covers automated and autonomous products, providing round-the-clock data on condition and performance. "This helps mines increase production, cut operating and maintenance costs and extend equipment life," Hokkanen adds. "We also offer data-driven productivity solutions through our modular OptiMine® information systems."
Digital solutions from Sandvik are literally breaking new ground. Consequently, they need to be thoroughly tested before being put to work in an actual mine. Sandvik operates a state-of-the-art test mine in Tampere, Finland, with six kilometers of tunnels at a depth of 40 meters.
"The test mine serves research and development needs, and provides real mine conditions for rapid prototype testing and quality assurance verification of underground equipment before customer delivery," says Hokkanen. "It's also a center of excellence where we offer competence development to our customers and undertake research projects behind closed doors."
Virtual reality equipment
Visitors to the test mine can wear virtual reality (VR) equipment to experience remote operation of fully automated equipment, with the help of the latest connectivity solutions.
Hokkanen says the test mine plays a crucial R&D role at Sandvik: "The realistic underground mining environment, with no ongoing ore production, is unique and essential for real-life testing of the capabilities of new technologies and new safety systems."
For miners, digitalization, automation and electrification combine to create an entirely new workplace: "There's less noise, reduced risk of accidents and no exposure to hazardous fumes. They get a better overview of the status of their machines and operations, and the tools they use become smarter and more precise," Hokkanen points out.
Sustainable electrification
The sustainability aspect is important. Electrification and automation reduce the need for ventilation tunnels, as no diesel fumes are emitted. Digitalization also facilitates a more efficient extraction of deposits with the help of digital mine planning tools from Sandvik(see below for details).
Despite the allure of hi-tech, Sandvik seeks to put humans first and emphasizes human-centered digitalization. "Innovation has to make sense to users, who have to feel that it's really helping them. A human-centered design approach ensures that people can quickly adopt new tools and harness the benefits of new technologies," says Hokkanen.
When digitalizing a work process, you need to ensure that you don't take away those aspects that are perceived as meaningful or rewarding to a human user, she points out. "It's important to have a sense of being in control and to feel that you are still the professional whose expertise matters in the world of data. We need to develop solutions that a miner can trust as much as her or his own instincts."
Do you want to know more?
www.rocktechnology.sandvik