Waste-collecting robot at hackathon
A team of software engineering students from universities in Gothenburg took part in an international space-themed hackathon in France. Sponsored by Sandvik, the team's task was to develop new space technologies that make a real impact.
The Act in Space international hackathon final, an innovation contest initiated by the French Space Agency (CNES), took place over two days in Cannes, France, in mid-February. It involved over 30 teams presenting their solutions to various challenges related to using space technology and data to impact everyday life on Earth.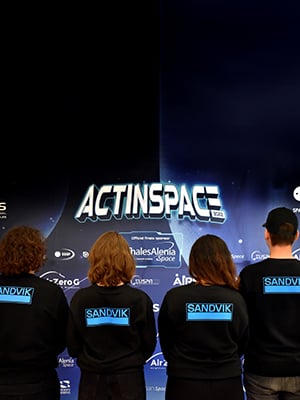 Each of the participating teams were invited to the final after winning regional competitions that had taken place around the world. A team of software engineering students from the University of Gothenburg and Chalmers won the Swedish competition. They constructed a prototype space debris collecting robot to remove human-made space waste that poses a danger to communication satellites, telescopes and spacecraft. The team's ultimate aim is a zero-waste space.
"We came up with the space debris collecting robot when we were brainstorming ideas on a whiteboard," says Michal Spano, the team's lead member. "One of my teammates had been watching the movie Gravity and recalled a collision in space in the film. We started to then consider the problem of waste materials floating around in space and got the idea that a robot could collect and bring them back to Earth for reuse."
The team, consisting of 4 members from various countries, reached the semi-finals of the hackathon in France. Spano, from Slovakia, says their solution was well received.
The team, calling themselves doubleEnum, built the model of their robot using Blender, a free and open-source 3D computer graphics software tool set. Their vision for their robot includes obtaining materials, such as rocks and minerals, for scientific purposes or reuse in various industries.
The final was won by a team from Azerbaijan. But the two-day event was a great networking opportunity for the team from Sweden and they presented their robot to four private companies, as well as to other teams. "Overall it has been a good experience that I and my teammates felt was fun and beneficial," says Spano. "And we all felt we would like to participate in hackathons again in the future."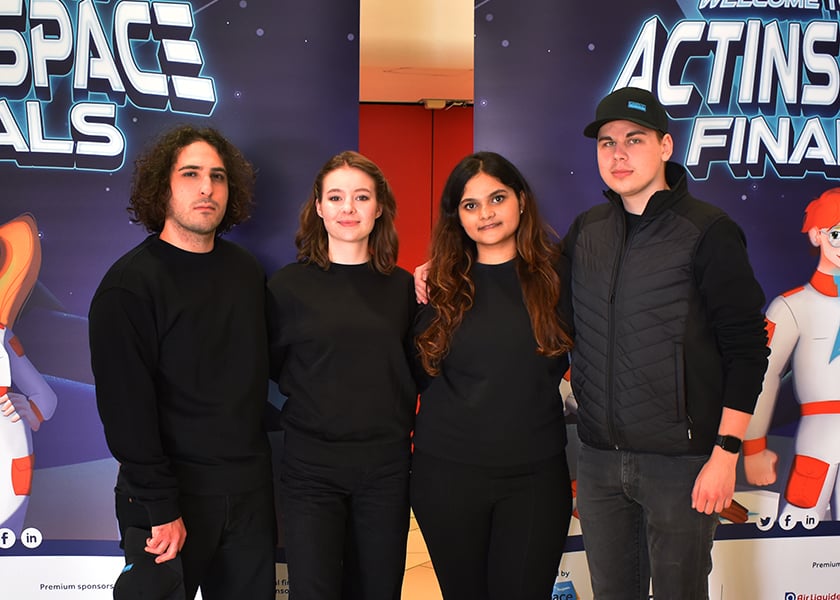 The Swedish Act in Space hackathon was organized with the help of Openhack, a non- profit company co-owned by Engineers Without Borders, Sweden. Through its long-term collaboration with Engineers Without Borders, Sweden, Sandvik has been supporting hackathons run by Openhack for the last few years.
"As well as providing financial support, Sandvik helps spread the word about our events," says one of Openhack's founders and current CEO Lukas Leander. "We also often have Sandvik employees on the hackathon juries as well as acting as mentors to the participants. Sandvik, for example, offered the winning team feedback on ways to improve their pitch. And Sandvik employees are of course welcome to take part in our hackathons themselves."
Participants are an important target group
Sandvik provided financial support to enable the team from Sweden to participate in the final in Cannes. "We strongly believe in solving global challenges together and we also know that digital contexts can be of great help for that," says Kinna Brundin, Global Corporate Communications Event and Partnership Manager, Sandvik. "Hackathon participants are also a super important target group for us and who we want to reach out to."
"This was my first hackathon," says Mariia Zabolotnia, one of the Swedish team members, originally from Ukraine. "Developing the solution for the space challenge was incredibly exciting. And all of the members of our team have different backgrounds so it was great to see how all of our skills came together. We complimented each other's ideas and collectively produced something that none of us could have done on our own. I really enjoy developing software and my dream job is to work in a cool team on a novel idea, something revolutionary."
Collaborative event
Hackathon is an event where teams engage in rapid and collaborative engineering over a short period of time, usually 24–48 hours, to create software or hardware solutions.
Openhack was founded in 2015 by IT students who had all been involved in Engineers Without Borders.