Round tools: shaping the future
Developments in machining technology, materials and market needs are making round tools an increasingly attractive choice for machining solutions. Having produced round tools for decades, Sandvik is today well placed to take advantage of the market growth and provide customers with the best performing tools available.
Most of us have probably used a round tool at home to drill a hole in a wall. They are the parts that fit on the ends of drills, and which come in all manner of sizes.
Sandvik produces thousands of round tools, and although they may look very similar to the ones we use at home, these tools are made primarily for industry and are much stronger and more durable.
Sandvik round tools can be broadly classified into three main groups: drilling, end milling and threading. These round tools are used mainly to manufacture components in the automotive, aerospace, medical, power generation, general engineering and oil and gas industries.
The growth of round tools
Round tools are made from solid bars which are ground to make a geometry that can then be used to drill a hole or make a thread for a bolt to join parts together, for example. They use the same material technology as indexable tools, which are small inserts with cutting edges that are fixed to cutting machines. And while indexable inserts have traditionally been the bigger market for Sandvik, the round tool market is now starting to grow at a faster rate.
Solid carbide can withstand higher temperatures and therefore enables higher productivity
Anders Fältenhag is Business Development Manager at Sandvik Machining Solutions. Together with the business divisions, he is developing the product strategy for Sandvik round and indexable tools. "The round tool market is now growing faster than the indexable tool market," he says. "And there are a number of trends driving this."
The first main trend, Fältenhag, says, relates to materials:
"These days we can make round tools with solid carbide tougher. In the past it was difficult to use solid carbide that was tough enough, so we needed to use high speed steel (HSS) so that the tool wouldn't break. But while HSS is tough, solid carbide, which is usually made from tungsten or cobalt, is much harder and more wear resistant. It can withstand higher temperatures and therefore enables higher productivity.
"The improvement of carbide has happened alongside the development of machines, which in the past didn't have the revolutions per minute (RPM) necessary to benefit from the use of solid carbide," he says. "But machines now have higher RPMs. These factors mean that round tools are increasingly being made from solid carbide instead of HSS, making them much more productive and therefore more attractive."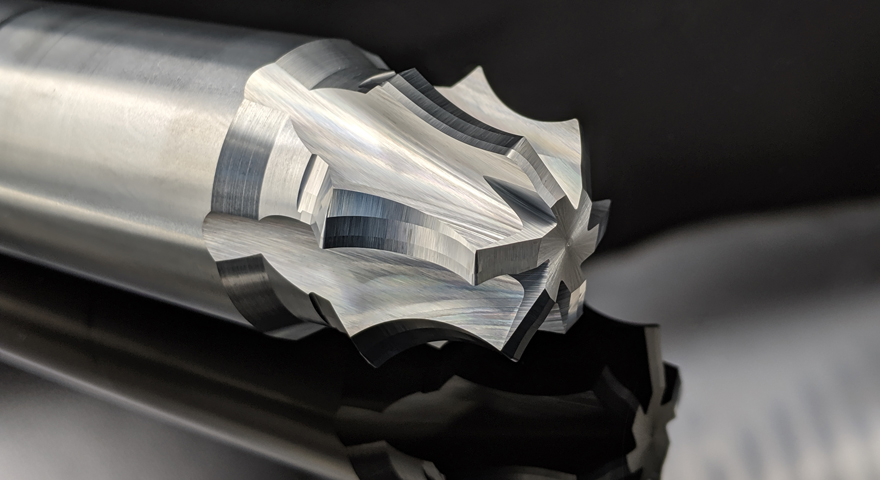 Size matters
Another important trend relates to the size of components. "Components in all kinds of applications, such as those in electrics motors, are becoming much smaller," says Fältenhag. "In the past you used lathes or milling machines that were quite large. But with the components becoming smaller, you can use a smaller machine and a smaller tool. In fact, you cannot use an indexable tool in some cases. There is no way to design an indexable drill with a 3mm diameter for example. For that you need to have a round tool."
The smallest round tool that Sandvik produces is a mere fraction of a millimeter in diameter. These small tools are known as micro tools and are used to make items such as watches and circuit boards, a huge area of manufacture today and one which requires lots of extremely small holes.
Anything is possible with 3D printing
Another trend that is driving the use of small round tools is the rise of additive manufacturing. "With new technology like additive manufacturing you only have the fine machining left," says Fältenhag. "With traditional manufacturing methods you start with a big chunk of material and you have to cut it all away before you have your final part. Lots of metal needs to be removed. But today, with additive manufacturing, you can start with what are almost the final dimensions. You only take away the final cut, which we call finishing, and in many cases, round tools are ideal for this."
The upper size range of round tools is, says Fältenhag limited by economy. "You can produce solid carbide round tools with diameters of 30-50 millimetres," he says. "But using that much solid carbide becomes very expensive. If you need tools this big, it is much more cost-effective to use indexable inserts as they require less carbide. Of course, there is an overlap. But I would say 20-, 25- or 32-millimeter diameters is the normal upper limit for round tools. You can make bigger ones, but you should have very good reasons to do so.
The increased use of CAM programming is also driving the use of solid end mills
"For length, when you talk about drills, we talk about the ratio between the diameter and length," he says. "The most common is 3xD. 3x, 5x are 7x are the biggest selling ones. Long round tools are used, for example, to make long holes that are used for oil in combustion engines, as well as in crankshafts and connecting rods and some aerospace components."
The new normal
As well as size and uses, there are many other overlaps between round tools and indexable ones. The types of materials used and production methodologies are almost the same for both types of tools. Sandvik customers for the two types of tools are also mostly the same.
"In some segments though, you can see that round tools are starting to become the dominant choice," says Fältenhag. "With medical and dental products, for example, which have lots of small components. The increased use of CAM programming is also driving the use of solid end mills and enabling the use of one tool for multiple operations such as roughing and finishing. Overall, we can see that because of the trends I have talked about, the round tools area is growing faster."
We acquire companies that have the technology or special skills that we are interested in
This growth of the round tools market is something that Sandvik very much wants to take advantage of. "We are currently the third biggest global player within round tools," says Fältenhag. "But we want to be number one."
Growth in the segment
As the round tools market is comprised of many of smaller companies, unlike indexable tools which are largely split between a few large companies, Fältenhag also says that Sandvik has a smaller market share within round tools compared to indexable tools. This is also something that Sandvik wants to change to better serve its customers.
"We are growing in round tools organically, in the same way as we do with indexable tools," he says. "You grow your own business with existing customers or find new customers, and that is organically done in each of our divisions as part of day-to-day business, by providing superior products, excellent service and supporting your customer. But we would like to speed up the growth. And we can do this with acquisitions. We acquire companies that have the technology or special skills that we are interested in, or that have a strong presence in customer segments or regions with higher growth potential, or that provide a broader product offering for our customer."
A commitment to quality and performance
Fältenhag also points out that while round tools often look simple, and to the naked eye are hard to distinguish between, there is a huge performance difference between different products:
"Performance depends on what type of carbide you have, how you treat the product when you grind it and what kind of coating you put onto it. Many features are so small that you can't even see them with a microscope. But we have a lot of good production technology within Sandvik, and much experience from manufacturing solid carbide tools. Due to our size, we also have a big research organization to support the development of new products. Sandvik is therefore at the top in terms of round tools performance and a market leader with solid carbide tools."