Digitalized manufacturing enables a closed-loop production that results in increased efficiency, less waste and improved quality. Sandvik has rapidly expanded its digital offering to automate and connect the manufacturing value chain, from design and planning to preparation, production and verification.
Sandvik has since long been a world-leading supplier of tools and tooling systems for advanced metal cutting. In 2021, the metal-cutting business was divided into two business area segments to further grow its digital offering; Sandvik Machining Solutions is an expert in machining solutions while Sandvik Manufacturing Solutions focuses on the beginning and the end of the value chain – design, planning and verification. The aim is an end-to-end digital offering that is agnostic and automates the machining process.
"Sandvik has a long experience of optimizing machining processes, and we are now able to build this competence into software and routines," says Nadine Crauwels, President of Sandvik Machining Solutions. "From production planning and programming to tooling, manufacturing and quality control, digitalization comes in at every step and improves efficiency and along with that sustainability."
A big step forward
One major leap on the digitalization journey came in 2020 with the acquisition of CGTech, a global market leader for numerical control (NC/CNC) simulation, verification and optimization. CGTech's product offering includes Vericut®, a software program used for simulating CNC machining. "It brought Sandvik Machining Solutions a big step forward towards offering full machining solutions for our customers.
The pace of acquisitions accelerated in 2021, adding competence in digital manufacturing and software solutions. CNC Software is the company behind Mastercam, the most widely used computer aided manufacturing (CAM) brand with about 300,000 licenses installed. Cambrio is a leading company with an end-to-end portfolio in CAM software for manufacturing industries, and ICAM provides solutions that translate CAM data into optimized coding for guiding CNC machining operations.
In the verification phase, Sandvik made two acquisitions: DWFritz Automation with a leading position in in-line metrology and Dimensional Control Systems, a leading global provider of dimensional quality management software and on-site engineering services.
"Our long history and metal-cutting knowledge, combined with recent acquisitions, make Sandvik uniquely positioned to help customers of all sizes make the most of the digital transformation," says Magnus Malmström, Chief Technology Officer at Sandvik Manufacturing Solutions. "A closed-loop, end-to end production with non-touch inspection is the ultimate goal."
The digital manufacturing process
The end-to-end approach means that not just production, but data collection and even analytics will be automated. Sensor-embedded tools continuously monitor production, and quality control and verification of parts takes place in real time inside the machine. The opportunities for continuous learning – by machines as well as humans – are endless.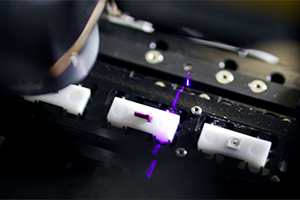 DW Fritz, one of the recent Sandvik acquisitions supporting digital manufacturing. .jpg
"We support companies in working with feedback loops, how they work with data and learn from every step in the process," says Crauwels. "We are now able to build this competence into software and routines that are automated and don't need to be in the head of an individual."
Optimization of the value chain includes interaction between software and hardware, "The opposite is suboptimization," she says. "That's why Sandvik has chosen an agnostic approach, which means that our solutions work with software and hardware from other vendors as well."
Many Sandvik customers are small and middle-sized companies and the agnostic approach helps them digitalize their operations and stay competitive.
"Engineering keeps moving forward, triggering a need to develop more complex parts and to invent new solutions," says Malmström. "More advanced manufacturing relies on digitalization to automate production and to maintain a high and even quality."
One example of the agnostic approach is that the industrial metrology solutions – which measure production results in real time inside the machine – work irrespective of who built the tools and the machines.
"The possibility to integrate measurement in the digital manufacturing process ensures that all components are of the right quality as they are produced," says Malmström. "We are moving from measuring random samples in a quality-assurance measuring room to in-line. By not producing faulty components, we will use less energy and material. Good for the planet and good for business."
Strong link to sustainability
Increased digitalization is strongly linked to sustainability, since efficient machine utilization and more accurate production results in less waste and fewer scrapped parts. Combined with increaing raw material and energy costs, production efficiency has a direct impact on the bottom line of customer financials as well as the climate.
Looking ahead, Crauwels says Sandvik is on a strong growth path. "Combining software and hardware creates new revenue streams and a
subscription-based business model," she says. "By complementing our growth in our core business with knowledge-based digital solutions we are set for a successful and profitable business."
Malmström agrees: "The demand for our solutions is stronger than the general growth in the manufacturing sector, and many applications even show double-digit growth. It's a great market to be in right now."