The Holy Grail of tool management
What does an imaginary creature from 1950s German literature have in common with a tool data management system of today? When it comes to being a perfect solution, a whole lot it turns out.
In Germany, there is a special expression for something that does it all: Die eierlegende Wollmilchsau, or "the egg-laying wool-milk sow." The imaginary creature, which looks just as spectacular as it sounds, popped up in German literature in the late 1950s and has since come to signify anything that combines every resource you might possibly need into one, perfect solution. In April 2021, Sandvik's Tool Data Management Systems unveiled its very own Wollmilchsau: TDM Cloud Essentials, making digital tool management available and affordable to everyone. "This is for all the small businesses out there," explains Robert Auer, director of global business development.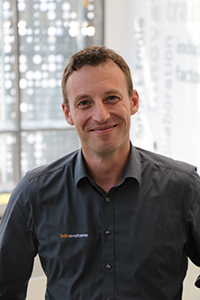 Robert Auer, TDM Systems
Some 30 kilometers south of Stuttgart, amid the rolling hills and far-stretching woodlands of the Baden-Württemberg region in southern Germany, lies the medieval town of Tübingen. This is the home and headquarters of TDM Systems, a Sandvik subsidiary that specializes in tool management solutions. Having started out as a support division of tool-cutting group Walter AG in 1988, TDM Systems has grown into a market-leading multinational to be reckoned with, counting Boeing, Ferrari and Siemens among its nearly 1,000 large industry customers.
Saving time and money
Over the years, TDM systems has saved its clients considerable time and money with its specialized system, which not only keeps track of every tool a company might have in its workshop, but also connects them to all related production programs and workshop machines.
"We link everything together," Auer says. "So instead of having to dig out documents to make a certain product and looking for the right tools to make it and so on, it's just a push of a button to get all that data."
The system can spit out everything from comprehensive tool assembly instructions to detailed descriptions and measurements of a specific tool. "You get this whole overview, and you don't have to waste unnecessary time on the setup. The quality of the product improves, too."
And it's a money-saver: In one case, TDM Systems saved a Swiss med-tech company 2 million Swiss francs (USD 2.2 million) over a four-year period. "And their number of tool assemblies was cut in half," Auer says.
Until now, these kind of solutions have been costly, requiring large, calculated investments in terms of IT equipment, staff training and other resources, and so have mostly been used by big industrial groups. But that doesn't mean that smaller companies haven't been needing them. In fact, smaller businesses might actually need them more than most.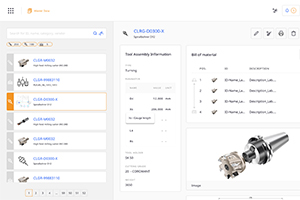 "In a small, let's say family-owned, company with just a few staff," Auer explains, "the difference between spending three to four hours setting up a machine compared with spending almost no time at all on it is huge."
In April 2021 TDM systems democratized the world of tool management by launching its TDM Cloud Essentials Software-as-a-Service solution. "The typical client for us would be a mom-and-pop shop with less than 10 employees and two, perhaps three, machines," Auer says. It is a perfect fit for companies dealing with a large number of individual orders in small batch sizes within a broad industry and product range, he says.
Cloud-based software
The software is cloud-based, meaning no equipment or project management investments are required. "You just need a computer and an internet connection," he explains.
The solution is subscription-based and is hooked up to the TDM WebCatalog, giving users access to data covering more than 250,000 standard industry tools.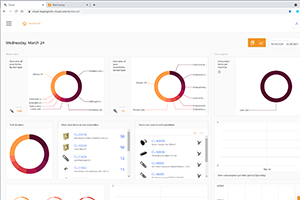 "TDM Cloud Essentials can change everything for a small business because users get a complete overview of their tools in an instant, and it cuts crib space and tool costs," Auer says. "Perhaps they've been using Excel spreadsheets to manage their tools before, but that's time-consuming. With this, if you're dealing with a recurring order, all the data is already there, and all you have to do is click and go.
"For many small machine shops out there, this is like the eierlegende Wollmilchsau," Auer says.