Keeping track of wild rhinos
The plight of the rhinoceros has long been the subject of gloomy predictions. It's easy to feel powerless to change the situation, given the organized gangs of poachers. Now, however, a dedicated organization and a 10 x diameter drill are offering some hope.
Zimbabwe, like the rest of Africa's rhino-range states, has been facing a rhino-poaching crisis. While the country has been able to mobilize protection efforts, more than 150 rhinos have been poached over the past five years. To fight back, the International Rhino Foundation is working with a local partner, the Lowveld Rhino Trust in Zimbabwe, to protect and expand the black rhino population by means of monitoring and anti-poaching support.
"Dormer Pramet is contributing in a small but crucial way to this effort," says John Eustace, Export Sales Director, Dormer Pramet. "Using a drill provided by our distributor in Harare, Mining & Industrial Suppliers, a small hole can be drilled into the horn of a sedated rhino."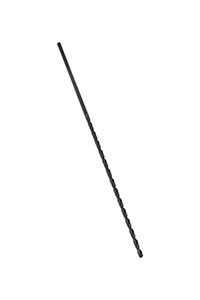 The A125 HSS extra length drill.
A space in the horn
The horn is made up of keratin, the same protein that builds human nails, hair and skin. The drill, an A125 HSS extra length with a drilling depth of 10 x diameter, creates a space in the horn to house a tracking device. This allows the LRT team of "rhino monitors" to radio track rhinos from the air, as well as on the ground or via satellite GPS to confirm their ongoing well-being. The LRT team treats rhinos wounded by snares or bullets, assists whenever possible with the investigation and prosecution of poachers, and relocates rhinos in high-risk areas to safer locations when necessary.
Community awareness
In addition to the hands-on activities, the LRT also works through rural schools to raise community awareness and support for rhino conservation. More than 50 rural primary schools are part of this program. The LRT is supported primarily by the International Rhino Foundation and Save the Rhino International, two organizations that accept donations to their cause.
Hands-on work, awareness raising, donations and drills all work in favor of the rhino.
Says John Eustace, "We at Dormer Pramet are proud to be a small cog in the wheel in the fight against wildlife crime and are hugely excited to be able to support the conservation program in this practical way."
How to support the rhinos
The Lowveld Rhino Trust accepts donations:
The Lowveld rhino region
The Lowveld rhino region of southern Zimbabwe covers more than 1.3 million acres (500,000 hectares) and is currently home to more than 500 black rhinos (Diceros bicornis minor) and 300 white rhinos (Ceratotherium simum simum), representing 85% of the Zimbabwean rhino population. This rhino range extends from Bubye Valley Conservancy in the west through Save Valley Conservancy to the Chipinge Safari Area near the Mozambique border, 200 miles (320 kilometers) to the east of Bubye and down to Gonarezhou National Park in the south.