Electric vehicles kick into high gear
The transmission is probably not what comes to mind when you think of an electric vehicle. But for EV manufacturers it is a crucial factor in keeping motor size down while optimizing performance. A Sandvik skiving tool is essential in the process.
Electric vehicles, or EVs, are everywhere these days as consumers forgo the noisy and pollution-emitting internal combustion engine. EV manufacturers are in fierce competition to come up with the best solutions in design, efficiency, range, comfort and manufacturability.
"It is like the early days of the smartphone," says Mats Wennmo, Global Automotive Transmission Manager, Sandvik Coromant. "All the key players are scouring the world to find the best and cheapest manufacturing techniques. All the old ways are out the window."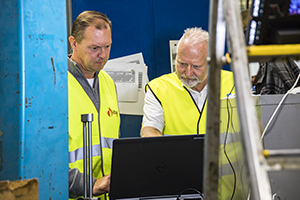 Thomas Åberg and Mats Wennmo, Sandvik Coromant, know how to kick into high gear
EVs have a modified chassis to accommodate batteries and a specialized drivetrain. The internal combustion engine is replaced by (usually two) electric motors, a large stack of batteries, power electronics and a transmission. EVs often weigh more than regular cars, so component weight is a major obstacle to overcome in their series production. On an EV, the drivetrain resembles the inner workings of a Swiss watch.
Electric vehicle motors go small
On standard vehicles, a transmission is a heavy-duty, oil-filled gearbox with multiple gears and a clutch mechanism that turns engine rpms, (or revolutions per minute, a measure of how many times an engine's crankshaft makes one full rotation in a minute) into the force required to move and accelerate the car.
On most EVs, this process is reduced into an integrated electric motor, inverter and transmission drive unit, which normally sits on each pair of front and rear wheels. Although EVs have higher, constant RPMs, the transmission unit must find a balanced gear ratio allowing for proper acceleration and speed. The EV transmission needs to be small, compact and quiet.
"The transmission is probably the best-kept secret of an EV," says Wennmo. "It is the only way to keep the motor size down while optimizing torque and rpms. And every manufacturer is very secretive about how they do this."
The Sandvik skiving tool
Wennmo explains that the particular engineering challenges of mass producing EVs – cost, speed, compactness – cascade all the way down to the actual manufacturing process of making the single gears in an EV transmission.
These days, the best way to make a gear is through a process called "skiving," a machining method that uses highly synchronized spindles and tooling to cut the gear teeth at incredibly high speeds with micron-sized tolerances. Patented in 1910, skiving only became viable for manufacturing internal gears such as those in automotive transmissions in 2007, the result of advances in machine tool development and software design. Skiving is often likened to a combination of hobbing and shaping, two processes used in the milling world to make gears. Unlike shaping alone, which is basically a cutting tool applied to a static metal surface, hobbing and the more advanced skiving process perform this cutting moment between the hob and the gear blank as they rotate continuously intertwined with each other, which somewhat confusingly looks like two gears meshing.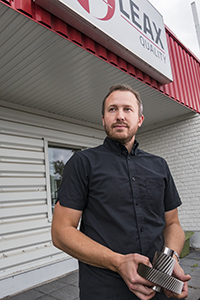 Elias Häggström, Director of Leax Group, says electric vehicles' transmissions increase performance and decrease costs.
"We often talk about micro-geometries when discussing the tools we use to machine gears and transmissions," says Elias Häggström, Director of Gear Technologies at the Leax Group in Köping, Sweden, a manufacturer of advanced components and mechanical solutions for heavy industry, including EVs. His company runs ten power skiving machines at its nine plants around the world.
Says Häggström, "The gear configurations of the gear boxes or transmissions are well-known parameters in designing automobiles. What is different today with EVs is that the tolerances and moving parts have to be so finely tuned to reduce overall weight, increase performance and decrease costs.
"But the real daily headache is noise, vibration and frequency," he continues. "An EV is totally quiet. In a fuel vehicle, all the extra noise from the components like the transmission and gears crunching together is covered up by the engine noise, so noise is rarely an issue. You really don't want the gears to whine like they do on a normal car."
A single machining setup
This is where the expertise and the Sandvik skiving tool comes in – a single machining setup with a CoroMill® 178 for producing ring gears, shafts, internal and external gears and splines compared with the more traditional methods, broaching and shaping, of cutting gears. The advantages are speed, cost and quality for the electric car manufacturers, their suppliers and the end consumer.
"We are always chasing the last few microns," says Häggström.