This is what the future of mining looks like. A mining automation concept vehicle from Sandvik gives a unique and real hands-on preview of how the latest technologies can make the mining industry more safe, efficient and sustainable.
Cabinless, electrified and automated. Without human interaction, a concept vehicle from Sandvik with an Automine® mining automation solution can navigate through the rough and changing conditions of underground mining tunnels. It can read the environment in 3D, create a model of the environment and plan its own missions – while the miners monitor the machine operations from the comfort and safety of a control room that can be located hundreds of miles away.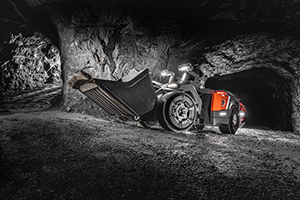 Automated, digitalized and electrified equipment will form the future of mining
"Automation, digitalization and electrification will form the future of mining," predicts Jarkko Ruokojärvi, Director of Automation Global Business Development and Marketing at Sandvik Mining and Rock Solutions. "New technologies provide new opportunities to increase safety and productivity and make the operations more sustainable."
Automation equals operational efficiency
The ongoing development toward more technically advanced mining is both necessary and inevitable, Ruokojärvi says. The mining industry has recovered from a tough period of market volatility and downturn in commodity prices. This has increased the focus on cost-cutting through operational efficiency.
"Add to that the fact that many easier deposit locations have already been mined," says Ruokojärvi. "The companies need to search for valuable minerals in locations that are more and more challenging and remote."
Generally speaking, the deeper into the ground the more challenging the rock mechanical conditions and the more challenging and costly it becomes to establish a mining area. Safety hazards increase and building infrastructure can become problematic.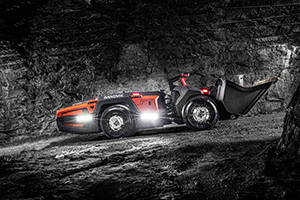 "Removing people from hazardous environments is really one of the main drivers for automation," says Ruokojärvi. "Reducing the in-pit and underground mining workforce by moving people to control centers will increase health and safety and create new types of job opportunities, which should benefit local communities and make the operations more sustainable."
Great secrecy
Sandvik has been developing autonomous and remotely operated equipment for 20 years and its Automine automation system has been delivered in hundreds of mining machines to customers around the world. Many of the groundbreaking mining innovations have come to life in its test mine and test lab in Tampere, Finland. To continue this journey, it is here that also the concept vehicle is being developed under great secrecy.
"With this vehicle we wanted to take automation a step further, disrupt the mindset of how things are conventionally done and show what we think the future will hold," says Ruokojärvi.
The current concept loader operating its way through the test mine in Tampere is not for sale. It is even doubtful that there ever will be a loader that looks exactly like it available on the market. This is a teaser, to show what to expect. The concept loader showcases the Sandvik vision for future robotic mining technologies, and the plan is to gradually commercialize and deploy the technologies across different types of equipment.
Beneficial electrification
Developments in the automotive industry have been valuable in this endeavor. The advances in sensor technology development for self-driving cars have led to new components becoming available for sensing the environment, for route planning and for avoiding obstacles. The electrification is greatly beneficial in mining too, as battery-driven equipment reduces CO2 emissions both above and underground. If powered with renewable energy the value chain increases further.
The new concept vehicle has been designed from the ground up for autonomous use. All factors necessary to accommodate people onboard have been eliminated, such as the operator cabin. Optimizing the design for autonomous use allows higher payloads in existing tunnels. It also enables the design of smaller machines that can work in narrow passages, a valuable aspect as smaller tunnels mean less mining waste.
"Focusing on machine design for only autonomous use allows for improved motion control and higher reliability," says Ruokojärvi. "The higher intelligence provided by the new technologies allows for increased operational flexibility, higher adaptivity and higher productivity, due to the machine's self-awareness and self-planning, as well as simpler preparations required by people."
Mining operations are widely varied in terms of mine design, minerals and geology. Different levels of automation are already in use in mining operations.
Generic automation
"Our goal is to make the automation more generic so that more types of mining methods can get the same benefits of safety, production efficiency and sustainability, regardless of how complicated the mining process is," Ruokojärvi says.
He predicts that in five to ten years mining operations in most parts of the world will be far more technically advanced than they are today. The concept vehicle has already shown what it can look like.
"It's very exciting that we can show that these technologies work in the toughest conditions and what is possible to achieve," says Ruokojärvi. "In our next steps it is necessary to evaluate how to incrementally commercialize these technologies to make sure they meet the needs of our customers."
Want to know more?
We make the shift – advancing the world through engineering
Through our diverse teams, strong culture and leading-edge skills we enhance productivity, efficiency and sustainability in a world that needs to evolve. Our role is clear – through every action, every day, we make the shift and advance the world through engineering.