Flying underground
By integrating one of the world's most advanced autonomous aerial vehicles with its own global-leading digital mining operation and information systems, Sandvik is helping customers map areas of their mines that were previously unreachable. As well as improving mines' safety and profitability, this new partnership is a key step toward a future where mines can operate safely with no personnel physically underground.
Sandvik Mining and Rock Technology's OptiMine® and AutoMine® solutions are the most advanced digitalization and automation systems currently available to the underground mining industry. OptiMine® is a comprehensive suite of digital tools for analyzing and optimizing mining production and processes. It includes 3D mine visualization, location tracking, scheduling, task management and equipment monitoring and analytics, all of which help identify bottlenecks, describe what's actually going on in the mine and predict what is likely to happen in the future. Meanwhile, AutoMine®, which can work with OptiMine®, is an automation and remote-control solution that allows heavy mining equipment to operate autonomously.
Reducing human exposure
"OptiMine® enables mining operations and information management by integrating all relevant data into one source and providing the tools and analytics to really help our customers optimize their mining process," says Jarkko Ruokojärvi, Global Business Development Manager, Sandvik Mining and Rock Technology. "By reducing human exposure to underground mining hazards, AutoMine® improves safety and, with equipment autonomy, improves productivity and profitability."
Both of these digital solutions operate by interacting with equipment and other assets as well as the data they collect. "OptiMine® collects data from all the different resources that are in a mine, such as mobile equipment and people," Ruokojärvi explains. "It pulls the data together and visualizes it in various ways that people in the mine operation's center and those working underground with tablets can make use of in order to operate more efficiently, both from a planning perspective and in real-time execution."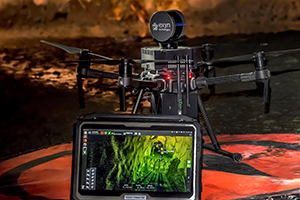 A unique proposition
Planning and execution are both of major importance, especially in terms of accessing tricky areas of mines. In fact, there is one area of a typical mine that has, until now, been particularly difficult to extract data from. And because Sandvik's solutions operate more effectively with more data, like all digital tools, Sandvik has entered into a partnership with the Philadelphia-based robotics company Exyn Technologies to solve that specific data-extraction problem.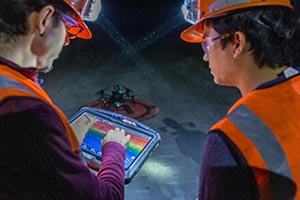 "We have a unique proposition that fits very perfectly with the requirements of the mining industry's unique problem," says Exyn's CEO, Nader Elm. "We have a fully autonomous aerial vehicle that can go into underground areas that you don't want to or cannot send people into."
These inaccessible areas are primarily stopes – the cavities that are created by blasting. "Stopes are inherently dangerous, as you have just blasted there and there is a risk of rock fall," Elm explains. "So you never go into these cavities. But they are also where the operations are, and where you have the least information."
Productivity and safety
"Our fully autonomous aerial vehicle can fly itself through these cavities, where there is no GPS, no line-of-sight or communications and, using a laser scanning sensor, map the stopes to create a rich 3D point cloud."
There is existing technology for mapping stopes, but it is far less efficient and more dangerous than Exyn's fully autonomous solution. A comparison, for example, of the volumetric calculations of a stope between an Exyn map and other technologies reveal a 20 percent volume difference. "That has safety and productivity implications across many different activities in the mine," says Elm.
"Productivity and safety are two of the key value drivers that our customers are looking for in these automation and digital solutions," says Ruokojärvi. "And it all starts with getting the transparency of what's happening underground and seeing what's really going on. To be able to optimize the mine as a full site or a process relies on being able to measure all the different factors affecting it."
The increased transparency that Exyn provides enables Sandvik's OptiMine® and AutoMine® tools to inform better and quicker decision-making. Exyn's stope maps can be used to more accurately visualize such things as what happened after a blast, whether the blast went as planned and the kind of cavity that has been created. That in turn informs drilling and blasting decisions for the next round.
Speed is another key benefit of Exyn's solution. "There are massive productivity gains in having the higher-fidelity maps that we can provide and with the speed that we can produce them," says Elm. "We can get into much faster iterations of gathering data, analyzing it and therefore being able to act on it sooner."
Exyn's robot was built from scratch over a three-year period by a team of scientists leveraging research undertaken at the University of Pennsylvania's GRASP (General Robotics, Automation, Sensing & Perception) Lab. "Our technology is cutting edge," says Elm. "It is basically a branch of what has been happening in the driverless car market. In some ways what we are doing is harder than what the driverless car market is doing, because we have to deal in three dimensions, with no communications and no GPS, and we have to fit all of that onto a vehicle that can only carry so much; we simply can't carry tonnage."
Working together smootly
Ruokojärvi, who is responsible at Sandvik Mining and Rock Technology for global business development in digital and autonomous solutions, agrees. "We have been monitoring what various players are doing in this field, and we can see that Exyn is a company that really has pioneering solutions for autonomous aerial robotics."
As well as recommending customers to each other's solutions, one of the key aspects of the partnership between Sandvik and Exyn is the integration of their solutions. Development is currently underway at Sandvik's test mine in Tampere, Finland, to ensure that the workflow and the transfer of data between Exyn's robot and Sandvik's OptiMine® and AutoMine® systems is smooth and seamless. "We are taking a burden away from our customers by making sure that the Exyn and Sandvik solutions communicate and work together smoothly," says Ruokojärvi.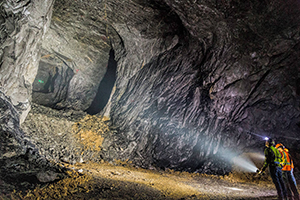 "Sandvik's strategy is very much around interoperability," he adds. "We understand that it is not always only our equipment being used in a mine. There are also all kinds of systems that need to communicate and collaborate - enterprise planning, human resources, maintenance planning, logistics, geological mine planning, IT networking, and so on. So when we deliver operational technology to boost productivity and improve safety we need to integrate with all the other systems and equipment. And we do that by making the data available through various types of interfaces in OptiMine®, so that the different systems can interact with each other. It is about creating a seamless digital ecosystem at our customers' sites."
Future joint research
Both Exyn and Sandvik believe that the most important benefit of their partnership for customers is safety.
"Safety is top of mind for everyone," says Elm. "And one of the things that really attracted us to the industry is the interest in human safety. That is something that we can directly impact straight away with what we have today, by reducing the risks for surveyors and by showing where significant hazards are in the mines. Removing people from activities that put them at risk of harm goes right to the heart of what we do."
Ruokojärvi adds that Sandvik and Exyn share a joint vision of having operational underground mines that do not require any humans to be present underground. "The possibility of scanning the mine remotely and then sending in an autonomous mining machine to proceed accordingly after what we know the environment is like provides some key steps toward the vision of fully autonomous mining," he says.
"Our partnership with Exyn, which will enable us to do future joint research and innovation activities, is helping us expand the horizons of mine autonomy together. By working together to combine these different autonomous machines we are really making new things possible as well as laying the foundation for world-class innovation to develop technologies that will address our customers' problems and improve their productivity and safety."
We make the shift – advancing the world through engineering
Through our diverse teams, strong culture and leading-edge skills we enhance productivity, efficiency and sustainability in a world that needs to evolve. Our role is clear – through every action, every day, we make the shift and advance the world through engineering.