Joining forces to fight COVID-19
The new coronavirus has had a huge impact on us all. However, the situation also brings out the best in people who are willing to walk the extra mile during the pandemic. Within Sandvik, a number of activities are ongoing with the aim of contributing to society.
There is a definite shortage of adequate medical protective equipment in hospitals and elderly care homes, and many companies and organizations are making an effort to help out. Sandvik's Kanthal division is 3D-printing frames for face shields, and out of use overhead projector transparencies have been collected from offices and storage rooms to become face shields. Together with face masks and protective gloves, the face shields are being donated to hospitals in Hallstahammar, Sweden.
Sandvik Coromant in Gimo, Sweden, the Additive Manufacturing division in Sandviken and Västberga, Sweden and the production site in Svedala, Sweden are 3D-printing frames for face shields for deliveries at local hospitals. Protective equipment has also been delivered to elderly care homes. Also, the Göranssonska Technical school in Sandviken, in which Sandvik is the majority owner, is 3D-printing frames for face shields.
"Sandvik would never compromise when it comes to keeping our employees safe, and right now, we can help protect medical personnel by keeping them safe and able to help those infected with COVID-19, as well as other diseases," says André Larsson, R&D Technician at Additive Manufacturing. "Our lives depend on these medical professionals and we cannot let their safety be compromised while they are saving lives."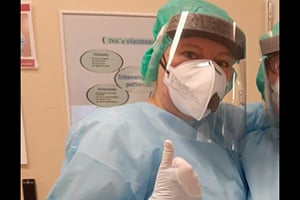 Every little bit counts as Kanthal is repurposing projector transparencies into face shields.
The Sandvik production sites in Svedala, Sweden and Neath, Wales, and Sandvik Mongolia have donated protective wear to hospitals, an initiative several Sandvik sites have since joined. Sandvik has also ordered protective equipment from China, such as gloves, face shields and face masks, that will be donated to hospitals in the Sandviken and Gävle areas. Sandvik is enabling logistics for large quantities of health care material being transported out of China to reach countries in dire need.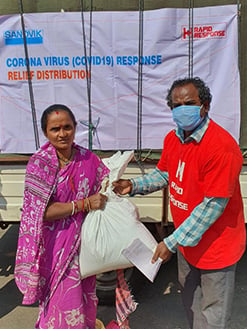 In India, the national lockdown has not only put pressure on the health system but also affected millions of the most vulnerable, like dayworkers and homeless people. Sandvik in India has distributed personal protective equipment, digital thermometers and ventilators to local hospitals. They have also distributed food rations, hygiene kits and created awareness about the virus to 2,550 families in Pune, Mehsana, Udaipur, Hosur and Patencheru. In addition, Sandvik is supporting 2,700 vulnerable families in the Udaipur region and in Kadi Block, Mehsana with food and hygiene kits.
Huge wire demand
While respirator manufacturers all over the world ramp up their production due to the COVID-19 pandemic, the surge in demand for resistance wire puts material producers to the test. Sandvik is supplying Exera® precision wire to ventilator manufacturers and its site in Palm Coast, Florida is extremely busy. Employees work double shifts to ramp up the wire production as the need for more ventilators is huge.
"We are happy to increase our production of the wire that goes into ventilators and thus be able to support the fight against the coronavirus", says Gary Davies, Head of Business Unit Medical and Production Unit Manager at Palm Coast.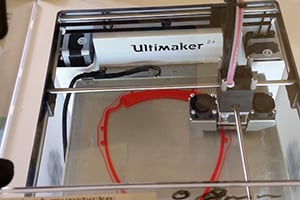 Several Sandvik divisions are 3D printing face shields to be delivered to hospitals in dire need.
Coronavirus restrictions have also called for innovative digital solutions for customer service. Sandvik Mining and Rock Technology business unit Automation has launched an e-learning for customers and the Parts and Services division has opened My Sandvik Productivity premium telemetry reporting to existing connected underground customers for free through the end of May. My Sandvik Productivity, part of My Sandvik Digital Service Solutions, provides mining customers 24/7/365 access to role-based dashboards in the My Sandvik online customer portal. The dashboards visualize fleet utilization, productivity, and equipment health insights to help site managers, shift managers, and service managers make faster, better-informed decisions.