Sandvik solutions in a container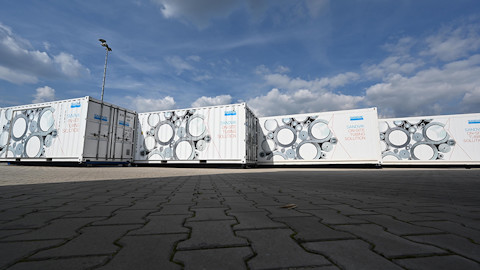 Sandvik has developed a mobile container that goes where customers go, reducing waste, increasing safety and bringing both time and cost savings along for the ride.
Bigger is not always better as microfactories are proving. These small production spaces help save energy, space, materials, time and costs as companies are increasingly discovering.
The miniature factories provide a variety of services for customers and are proving invaluable for serving local markets by being able to fabricate customized products on-demand. This has been helped along by digitalization and automation which enable many of the tasks to be conducted remotely, and through a much smaller labor force than was previously possible.
Sandvik has placed the microfactory concept into a mobile container, enabling an agile service that is easily transported from one customer location to another.
Flexibility in a container
The Sandvik Mobile Service Solutions container supplies coiled tubing solutions to customers on site, using a digitally connected system to straighten and cut tubing to match customer specifications. Virtually any length can be cut, significantly reducing waste compared with delivering a standard tube size, leading to substantial material, time and cost savings.
The fully mobile, digitally connected container solution can be deployed in all kinds of terrain and conditions and can be tailored to suit individual customer needs. It has the potential to be manned in person or steered remotely for everything from administrative details, such as certification and invoicing, to technological processes like the straightening and cutting of tubing.
A Sandvik container solution is currently being deployed in Europe for Linde, a leading industrial gases and engineering company.
Linde is a global company with more than 20 years of experience in hydrogen mobility applications, among its many activities. In recent years, Linde has been building hydrogen stations to fuel vehicles. To date, the company has built more than 160 hydrogen-fueling stations at commercial filling stations in more than 15 countries, and further stations are underway.
As a renewable element, hydrogen (H2) plays a fundamental role in achieving sustainability targets by providing an alternative to fossil fuels such as oil and natural gas. And, as demand for greener vehicles grows, so too is the need for hydrogen to power such vehicles.
Sandvik is playing an important role in Linde's expansion by supplying the company with stainless steel alloy tubing solutions through the Sandvik Mobile Service Solutions container. So far, the container has traveled to a number of locations in Germany and Austria.
High-quality tubes
The stainless steel alloy tubes are used to transport hydrogen from a storage tank to a dispenser usually located about 40-60 meters apart. Sandvik has been manufacturing and supplying seamless stainless tubing to customers worldwide since 1924, and the high corrosion-resistant alloys have been helping customers improve lifecycles and safety in all kinds of harsh environments.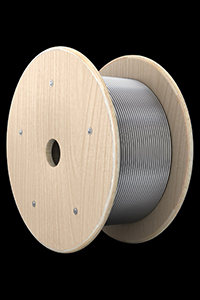 The Sandvik Mobile Service Solutions container supplies coiled tubing solutions to customers on site.
"The tubing used to transport hydrogen has special mechanical properties and tolerances and inside surfaces according to whatever pressure rate that Linde is using," says Haydn Eagle, Sales and Marketing Director, Sandvik High Precision Tube, adding that tube production, straightening processes, and even the container are all patent protected.
Linde gives Sandvik the heads up when building a hydrogen station in need of tubes and Sandvik sends a container to the station on a pre-arranged date. The work is generally completed the same day. At the station, the 150-170 meter coiled tubing is straightened and cut. "This is a production step that we normally perform at our factories but now, with the container, we can carry out this step right at our customer's site and cut the tubes to match Linde's exact specifications at each location," says Eagle.
Efficient and safe
Johannes Fritzer, Research and Development, Linde Hydrogen FuelTech, explains further: "Installations on customer sites differ from project to project so it is essential to have tube solutions which allow us to realize different dimensions and lengths to connect the necessary units on the fueling station site," he says.
In addition to reducing waste and costs, Sandvik's tubing solution also offers the highest possible level of safety.
"It is essential regarding safety aspects that the tubes meet certain quality requirements which are taken into account for the pressure rating of the different ranges in use," says Fritzer. Linde's hydrogen gas is transported under both low and high pressures of up to 900 bars and Sandvik's high-quality tubes meet the strict safety guidelines for hydrogen transportation.
Sandvik's long tubing also reduces the risk of accidents by eliminating the need for conventional fittings such as cone and thread connections or welding, which are normally used to connect shorter tubes. Eliminating connections helps reduce the risk of leakage and station shutdowns, increasing safety for both the site and the surrounding neighborhood. The lack of connections also makes the burying of hydrogen transporting tubes feasible.
Johannes Fritzer highlights further customer benefits with the convenient container solution, which has Sandvik taking care of inventory and the stocking of coils. "From a logistical point of view the Sandvik solution eases the planning of the construction site through an unproblematic direct delivery of the needed tubes, with no ordering, storage or other logistical issues," he says, adding that his department has been purchasing tubes and raw materials from Sandvik for about 15 years and is pleased with Sandvik's new mobile Solution thus far.
"Overall there has been a very positive response from all parties involved in the process. Sandvik has good customer service, is technically professional and provides a consistently outcome-oriented approach. We will certainly continue to rely on Sandvik's support."
Sandvik Mobile Service Solutions
Sandvik's onsite coiled tubing solution offers numerous advantages for customers, including:
Easy-to-use precision monitoring and control
A digitally connected system
Automated tube straightening according to Sandvik's high standards
Virtually any length can be cut leading to savings on materials and time
Optional end finishing
Can be deployed in all terrain including desert, offshore and cold conditions
High level of safety with deployment of long, seamless tubes
Flexibility and cost efficiency