Modelled in the virtual world
In the workshop of the not-too-distant future, intelligent software that replicates physical products will create an avatar of the real thing before you get started. The result, a digital twin, will save time, money and materials.
Imagine being able to machine the perfect component – cut with the best-suited tool assembly, at optimal speed, using the most compatible materials – long before you've even set foot in the workshop or ordered any materials for it. This may all be possible via the digital twin concept, which is one of the cornerstones of Industry 4.0.
A digital twin is the dynamic software model of a past, current or future state or behavior of a physical product or system, making it possible to simulate it virtually. Bengt Olsson, Product Information Specialist at Sandvik Coromant, explains: "To put it really simply, it's like having an avatar of the real thing, which moves and behaves in the same way the real thing would in the environment you put it in. This avatar fits very well into the digital world of tweets, blogs and streams, and It blurs the lines between the digital and physical worlds."
Replicating human expertise
Sandvik Coromant has already used digital twin technology to replicate some of the human skills and expertise of its technical engineers, including the art of being able to "hear" whether an edge in a machine is going blunt. The company is also contributing to the wider standardization of the digital twin technology, by working on different plug-and-play solutions and by helping establish a global tool library, in which digital twins are able to draw any tool data they need to create the most efficient tool assembly for specific machining purposes.
By using information standards and plug-and-play technology, a new dimension of communication becomes a reality, where physical things communicate with one another as well as with apps.
Olsson says the real power of a digital twin is that it provides access to structured information and enables artificial intelligence to learn from previous experiences and pick up on challenges via sensors, thus helping to predict real-life outcomes.
"This means you can test different machining alternatives ahead of the real process," he says and adds that the progressive intelligence of the system will also help you get closer to the desired result a lot faster and more efficiently than any other type of process ever has.
Saving time and resources
"With a digital twin, you can adapt to given conditions and verify that design requirements are met, even if you are still on the drawing board," Olsson says. "Aside from time, you also save on materials and resources otherwise invested in for the potential margin of error." In the future, he says, it will become more and more common to test products and processes via their digital twins before actually acquiring their physical counterparts. "Perhaps you find a product online," he explains. "Before you buy it, you download its digital twin to see how – and if – it works in the environment you need it to."
The virtual workshop
Already in 2017, global research and advisory firm Gartner named the digital twin among its top 10 strategic technology trends and predicted that from around the year 2020 "billions" of products and processes would be represented by digital twins.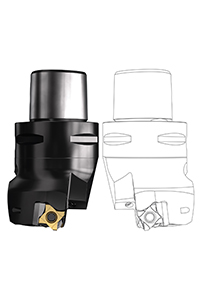 Precise digital twin representations increase speed and quality of the design and planning processes.
Although Sandvik Coromant has worked with digital twin technology since the early 2000s,
Olsson says, the rapid evolution of the Industrial Internet of Things has propelled it to a whole new level, handing it capabilities such as cognitive services and artificial-intelligence-based digital models that allow for interaction. "You can ask it questions as you go," he says.
Sandvik Coromant's future plans include investing further in improving digital twin information quality, establishing communication channels and developing information models that are ready to meet future challenges. It is also working on enhancing the ways in which the company's digital twins communicate with its customers' systems.
"Technology has caught up with the industry now," he says. "In the future, you will have to pass through the virtual workshop before you can even dream of entering the physical workshop."