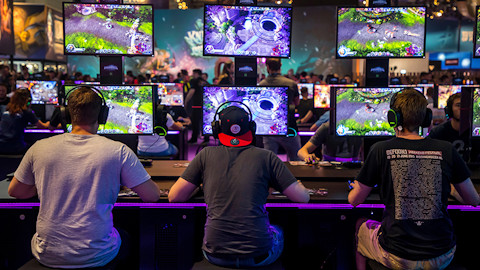 In a time of increasingly rapid development, companies are seeking
new sources of innovation. Suddenly, computer-game developers
can become relevant to Sandvik.
Digitalization is transforming industries and societies around the world, and the mining sector is no exception. New technologies, including electrified vehicles and Wi-Fi-enabled equipment, are unlocking new ways of conducting exploration and extraction, and in the process boosting safety, productivity and sustainability.
Making the most of the opportunities presented by digitalization, however, may require skills and competencies found in unexpected places, notes Miika Kaski, who works with research and technology development at business area Sandvik Mining and Rock Technology.
"We are seeing a digitalization wave sweeping across a traditional machine-building industry," he says. "Mining is an old craft, where digitalization may require a whole new mindset."
Kaski says mining has traditionally been a conservative business characterized by a slow pace of innovation and change.
"Suddenly, computer-game developers become highly relevant to us," he says. "They can, for example, create user-friendly interfaces for certain functionalities. This is a competence we need going forward."
In some ways, innovation as such remains essentially the same, he explains, adding, "It's about getting smart people together to develop their ideas."
Think tank gave new angles to digitalization
So how do you attract people whose ideas may help take the art of mining one step further with the help of digital concepts? You can arrange a think tank event, which is what Sandvik did recently in Tampere, Finland.
"The purpose of the event was to bring together small startups and midsized companies to help shape our future in the field of digitalization," says Kaski. "They were invited to come up with new thinking in areas of connected equipment, data analytics and process optimization, all in accordance with our digital strategy."
The invitation attracted more followers than Sandvik could accommodate and all presentations had to be pre-screened to select the final 26 entries. Kaski says he's pleased with the quality of the submissions.
"The contributions varied in terms of relevance to us," he recalls, "but each one certainly provided us with food for thought and helped update us on what's happening in other industries in terms of digitalization."
Co-creation a necessity moving forward
Besides events such as the think tank, Sandvik relies on cooperation with universities and external research facilities across the world to supplement and cross-fertilize in-house R&D efforts.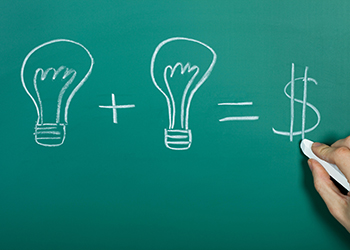 Connecting innovation to commercialization is a cornerstone for Sandvik."Sandvik cannot produce everything in-house, and therefore we need to become even more co-creative," Kaski says. "We must decide what to do in-house and what to source elsewhere. We need to establish what we aim to develop in terms of innovation, and then create appropriate ecosystems and networks around these topics.
"We obviously know our core business and possess certain types of resources and competence in-house. Increasingly, though, noncore skills need to be part of our innovation ecosystem and networks."
Educating the external partners is an integral component in producing relevant and desirable innovation results, Kaski notes.
"We need to educate our external partners in the field and make them contribute," he says. "They need background information to understand our needs, applications and customer processes. They can't propose a better solution to something if they don't know what the present solution looks like."
Essential to link innovation to commercialization
In inviting external parties to share in innovation and research, Sandvik has to offer complete confidentiality in creating an honest and open cooperation climate, Kaski adds. And while innovation may seem like a worthwhile endeavor in itself, to a company it also has to be worth its while in commercial terms:
"Connecting innovation to commercialization is a cornerstone," Kaski says, explaining that Sandvik applies a technology readiness level to rate ongoing innovation projects.
"It is a scale with different numbers and levels annotating technological maturity," he says. "We use it to mitigate the technology risk and to allocate capital properly."
The scale goes from 1 to 10, and levels 7 and above equal a go-ahead to the incorporation of the new technology into actual products and components, Kaski explains.
The scale ensures that technology and commercial readiness are accounted for and secures a low risk of failing, he says. "It is a very solid process that Sandvik can be proud of."
Being recognized as a technology leader and truly innovative strengthens Sandvik's credibility.
Sandvik wants to push new technology
At Sandvik, innovation has remained a key success factor ever since the company was founded 156 years ago.
"Technology leadership and to be No. 1 or No. 2 in our chosen markets are pillars of our strategy, and continuous innovation is key to technology leadership," Kaski says.
Being recognized as a technology leader and truly innovative strengthens Sandvik's credibility and allows the company to 'push' new technology and not merely wait for the 'pull' from customers demanding new solutions. Kaski mentions Apple's iPad as an example of a successful push.
"Nobody knew they wanted an iPad until it was out there," he points out. "Sandvik is also able to 'push' innovations to customers that they did not know they needed. And we have the credibility to succeed."
Pursuing a 'push' position is also based on other reasons, he adds. "In areas of safety and productivity we feel it is our responsibility to convince customers of the value of innovations and provide a business case," Kaski says. "One example is the introduction of our battery-powered electrified mining equipment in Las Vegas in 2016, an innovation that was met with some suspicion at the time."
But Sandvik pushed ahead. "We were putting something on the market that underlined Sandvik's technology leadership," Kaski says. "A year later, demand has picked up momentum and the market is finally ready for something that we have researched for a number of years."
Innovation must add value
Kaski says a factor that unites the world's most innovative companies is the degree to which they are able to convince their customers of the value of their innovations.
"They are not necessarily the biggest in terms of R&D spending," he explains, "but they are the best in connecting innovation with corporate strategy, because innovation is closely linked to the business strategy."