Data: The next great resource
Forget oil, gas or rare-earth elements. In coming years data is set to become the world's most valuable resource. Advances in technology, from robotics to artificial intelligence, are transforming industries across the world.
Industry 4.0 is the next phase in digitalization. It is driven by a sharp rise in data volumes, computational power and connectivity, the emergence of analytics and business-intelligence capabilities, new forms of human-machine interaction and improvements in transferring digital instructions to the physical world, such as advanced robotics and 3D printing, according to consulting company McKinsey.
Emerging digital technologies from big data analytics to automation have the potential to reduce costs, enhance productivity and better manage variability in heavy industries across the world. The cost of such devices and storage is plummeting as economies of scale kick in.
For example, the rapid pace of digitalization is transforming the component-driven automotive sector into one more focused on software and services. Cars are more connected than ever, and self-driving vehicles are almost upon us, but it's in the factories and supply chain that digital innovation has already made a difference.
Greatly increased efficiency
The efficiency of supply chain management can be greatly increased with the help of big data. Accurate predictions can be made as to when a special component should be in stock in a warehouse or production plant, for example, while smarter decisions on future production can be made based on economic factors that may impact future demand.
With the help of advanced artificial intelligence platforms, such as IBM's Watson, companies across industries can use insights from data in one field to apply best practice elsewhere. Power companies, for example, can use Watson to predict demand on the basis of historic data and real-time weather forecasts.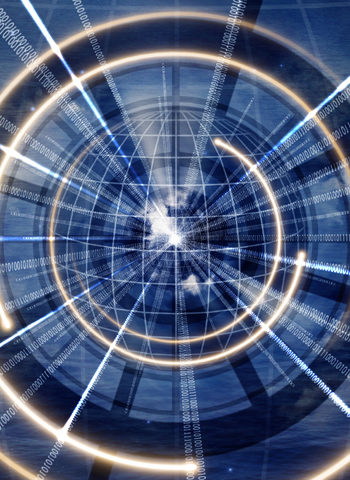 90 percent of the world's data has been generated in the past two years."IBM's report Business Insights report that 90 percent of the world's data has been generated in the past two years," says Manish Chawla, General Manager of Global Industrial Products for IBM. "The clear majority of this data is not used to make business decisions, so just imagine what can be achieved once that hidden value is unlocked."
While there is much to gain from digital developments such as artificial intelligence and automation, a major concern is that most jobs are at risk of being replaced by digital intelligence. However, World Bank research point out that face-to-face interactions can't be easily replaced. Overall, the researchers found that on average only 9 percent of jobs in OECD countries were automatable.
Mining is one industry where automation will have an impact. "I don't think we'll see a huge reduction in jobs, at least not in the short to medium term, but job roles will change," says Neil Moloney, Senior Consultant at Goldcorp.
"We are already seeing the job of general managers change, as automated reporting solutions allow them to focus on other things. Operators are still necessary, but the definition of what an operator does will change. Some of our operators don't even own a mobile phone, so suddenly filling their cabin with automated tools is a scary proposition for them. Change management is absolutely critical for this to work."
Lawmakers struggle to keep pace
The digitalization boom is also keeping lawmakers and regulators busy as they struggle to keep pace. In 2018, the EU's General Data Protection Regulation (EU GDPR) will have an impact as the biggest change to data privacy regulation in 20 years.
Designed to deal with the way that the likes of Google and Facebook manage user data, the regulations will force companies to reshape the way they approach the collection and management of personal data, something that could create a few headaches within industry. While position tracking and monitoring of automated equipment and individual workers can drive productivity and improve safety, it can also fall foul of the new regulations.
"You need a specified, explicit and legitimate purpose for collecting information relating to an identifiable person, and a legal basis for collecting and processing it," explains Manny Maloney, General Counsel for business area Sandvik Mining and Rock Technology. While there can be no doubts about the positive impact on safety, some labor unions have expressed concerns about such constant monitoring of employees.