Partnership benefits communities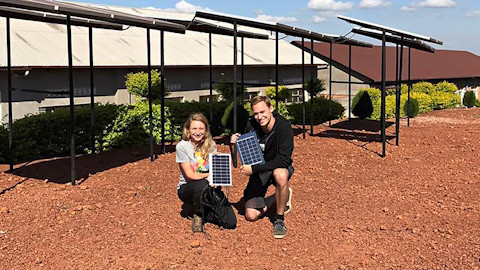 Sandvik has signed a long-term partnership agreement with Engineers Without Borders Sweden. The idea is to contribute technical expertise, project management skills and international experience to strengthen the NGO's volunteer projects.
Stable infrastructure is crucial to a well-functioning community, and it's this premise that lies at the heart of the non-governmental organization (NGO) Engineers Without Borders. Through many of its development projects, the NGO focuses on achieving sustainable solutions for energy and water supply.
"Above all, we're active in Africa," says Jan Byfors, former Chief Technology Officer at construction group NCC and voluntary deputy chair of Engineers Without Borders Sweden. "Around 20 projects are in progress, including building toilet systems in Tanzania, installing solar cell electricity to provide lighting in Kenyan schools, and generating energy from cow manure in Ghana."
Corporate partners add experience and expertise
Byfors has a long professional career behind him. Now, he says, he hopes to be able to contribute useful experience to an organization that to a great extent is run by working groups at Sweden's universities and institutes of technology. Out of approximately 1,100 members, 70 percent are students, and engaging senior people with professional experience has presented a challenge.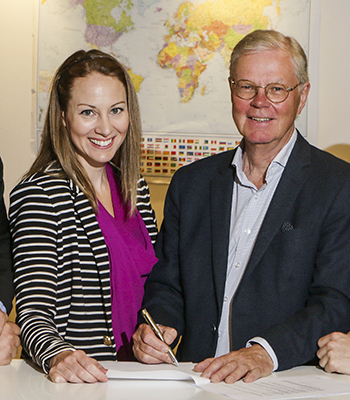 Jessica Alm from Sandvik and Jan Byfors from Engineers Without Borders Sweden sign a partnership agreement."This is why corporate partnerships are important to us," Byfors says. "We need partners with experience and expertise from different industries. The new agreement with Sandvik entails both financial support and support in the form of resources, which means that we can broaden and strengthen our voluntary operations with a greater undertaking in the field."
He adds that Sandvik's extensive international network can greatly benefit the partnership.
A win-win agreement
Jessica Alm, Sandvik's Head of Group Communications, agrees. "We are, for example, active in South Africa and have sound knowledge of several regions where local partners may be needed," she says. "As a global company, we want to provide technical expertise and create community benefit, while giving our own employees the opportunity to get involved in humanitarian projects and feel pride in the company. It also makes us an even more attractive employer, particularly among young people."
Alm adds that a further positive aspect of the partnership with Engineers Without Borders is the organization's strong link to the universities of technology in Sweden.
Jonathan Balsvik is group leader for Engineers Without Borders' student organization at KTH Royal Institute of Technology in Stockholm and will act as project manager for the organization's partnership with Sandvik.
"We're seeing great opportunities for our students to forge clear contacts with the corporate world via these joint volunteering projects," Balsvik says. "And as Sandvik has offices all over the world, we can also benefit from their professional contacts in countries where we help build infrastructure of various kinds. We often need to find solutions for transporting the equipment to the location, for example."
Projects to boost interest in science and technology
In addition to its international projects, Engineers Without Borders also works locally in its own surroundings. For example, Balsvik has been involved in volunteer work in socially deprived suburbs, where the organization provides children and young people with help with homework and programming workshops.
"This is a way of generating interest in science and technology," Balsvik says. "In the long term, it may encourage more people to apply to these types of academic courses, even those from groups whose parents don't come from an academic background."