Will your next colleague be a smart robot?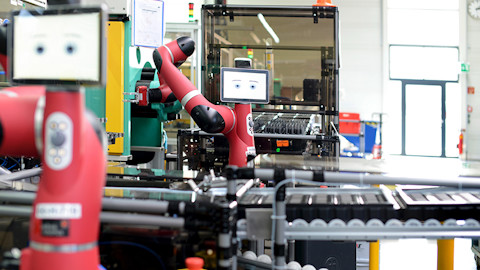 Intelligent cobots will soon join traditional industrial robots on the factory floor, making the vision of man and machine working side by side a reality.
Finnish software company Tieto has appointed artificial intelligence member Alicia T to one of their management teams. She is a full member and participates in decision-making. While it might be a PR trick today, there will likely be Alicia Ts and her fellow AI friends represented on teams everywhere in the future.
Industry 4.0 is a hot topic for almost all industries today. Artificial intelligence, big data and connectivity are discussed in management meetings, industrial exhibitions, boardrooms and business events and publications around the world.
One of the key ingredients in an integrated industry is collaboration between man and machine, where collaborative robots or "cobots" work side by side with people on the shop floor. While traditional robots perform predefined tasks, cobots are designed for human interaction. Like robots, they can work in hazardous environments and for long hours without getting tired, but in addition they learn new things and can perform various tasks.
"Humans are still faster than machines when it comes to precision, details and small adjustments, but there are numerous times when you need a helping hand," says Pasi Kangas, Vice President and Head of R&D and Quality at Sandvik Materials Technology. "That's where cobots will be unbeatable. Carrying heavy loads, collecting things and performing actions in extreme temperatures and other harmful environments are just a few examples."
Cobots will help improve production accuracy
Sandvik Coromant is already using robotic technology for material handling, transport, logistics, tool handling and many other tasks. Vahid Kalhori, Manager of Intelligent Machining at Sandvik Coromant, says that seamless collaboration between humans and machines will increase production accuracy even more with respect to cost, quality, productivity and process security.
"What we are experiencing now is an industrial revolution with great impact on our way of working and our processes," he says. "To benefit from the opportunities, new types of competencies are required. No matter how collaborative the robots are, there will be a need for human resources – people who can improve algorithms and methods and train the cobots. It's like a jigsaw puzzle."
Risk or opportunity?
Just thinking about the combination of robot technology, advanced artificial intelligence and big data quickly raises issues about the human role going forward. Kangas doesn't think that artificial intelligence is a threat to humanity – rather the opposite.
"I think the future workplace will be more attractive than what it is at present," he says. "Just imagine all the monotonous and sometimes unsafe work tasks that humans handle today. Increased collaboration between man and machine will redefine the industry as we know it, but in a positive way."