"Charging while Drilling" wins Sustainability Award 2023
This year's Sustainability Award in memory of Sigrid Göransson is presented in recognition of an innovative solution which contributes towards the shift to a more sustainable mining industry. The patented "Charging while Drilling" technology for battery electric drilling equipment in the underground environment utilizes the drilling cycle to simultaneously charge the battery.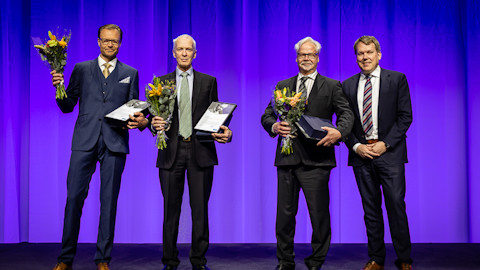 The separate charging of batteries takes quite a long time, resulting in additional downtime. However, use of "Charging while Drilling" technology enables the battery to be fully charged at the end of the cycle, powered by green energy and ready to go. The customer does not have to change their drilling methods or mine infrastructure, but benefits from more efficient utilization. Power consumption from the electricity grid is also optimized, and, of course, the use of battery electric equipment improves the environment and working conditions by reducing emissions, heat, and noise.
The patented "Charging while Drilling" innovation further strengthens Sandvik's competitive position within the rapidly growing field of electric underground equipment.
The winners of the "Sustainability Award in memory of Sigrid Göransson" were announced at Sandvik's Annual General Meeting, April 27.
"We are very honored to receive this sustainability award. It is further confirmation that Sandvik is leading the way towards more sustainable mining", says Juha Piipponen, Engineering Manager, Underground Drilling division at Sandvik Mining and Rock Solutions.
The Sandvik Sustainability award in the memory of Sigrid Göransson
Sigrid Göransson was the granddaughter of Göran Fredrik Göransson, founder of Sandvik and the daughter of Anders Henrik Göransson, CEO of Sandvik. Sigrid made the company focus on social responsibility and improved working conditions at a time when that was rare.
In the name of Sigrid Göransson, Sandvik has launched an annual sustainability award to celebrate the best innovations within the company. It is an internal award praising our heritage of sustainability and community involvement. The prize will go to a solution that has had a measurable and lasting impact on environmental, economic or social sustainability at Sandvik or in local communities.
Read more about the sustainability award and see a list of previous winners