Sigrid Göransson prize to sustainable cone crushers wear parts
The team behind the circularity program for premium crushing chambers, Jörgen Petersson and Anders Åkesson at Sandvik Rock Processing Solutions, were awarded "The Sandvik Sustainability Award in Memory of Sigrid Göransson" for their contributions to improving circularity which is part of Sandvik's sustainability agenda. The winners were presented in connection with an online shareholder's event on April 26.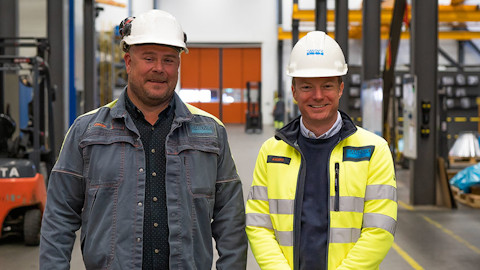 Premium parts for Sandvik crushers are produced in Svedala, Sweden by one of world´s most sustainable manganese foundries.
"It feels great to win this award after many years of innovation and team effort at the production unit in Svedala. The program has had a proven positive impact on sustainability and is also good for our business," Anders Åkesson says.
Svedala's innovative process of producing manganese wear parts for cone crushers uses more than 90 percent recycled steel as raw material. Avoiding the use of virgin material and internal process improvements have reduced CO₂ emissions by over 16,000 tons per year through international collaboration with customers and other Sandvik business areas.
Furthermore, a buy-back scheme has proven value over several years and presents a unique product to the market. Sandvik has also introduced the first certified Environmental Product Declaration (EPD) in the industry for manganese crusher wear parts.
Read more about the "Sandvik sustainability award in Memory of Sigrid Göransson"