New issue of Meet Sandvik
Sandvik's corporate magazine Meet Sandvik number 2-2015 is out.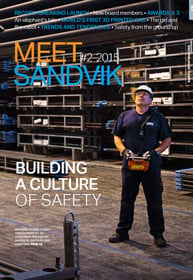 In this issue:
- Safety in all areas –taking the lead in creating a safer environment for our customers through products, methods and expertise.
- Trends and tendencies: An update from Mats Backman, CFO on Sandvik's strong first quarter of 2015 and the priorities ahead to support Sandvik's growth targets.
- A tale of two tusks: an update on Spike, the elephant who broke his tusks, and received innovative dental help from Sandvik Coromant.
Meet Sandvik 2-2015 (PDF document, 3.2 MB)