New issue of Meet Sandvik
Sandvik's corporate magazine Meet Sandvik number 3-2014 is out.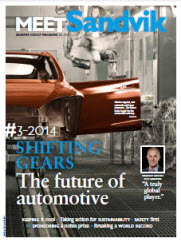 In this issue:
The future of automotive – in a rapidly growing industry Sandvik partners with automakers to enable sustainable growth.
Sandvik mentoring high school students to encourage interest in technology and IT.
Safety first in strategic direction – Sandvik Materials Technology's Lena Berg heads strategy and communication, aiming at zero accidents and to grow in energy.
Meet Sandvik 2014-3 (PDF document, 1.4 MB)