Sandvik has Sweden's best website
For the second consecutive year, Sandvik tops the list of Sweden's best corporate websites in Webranking by Comprend. Sandvik is particularly good at presenting information about sustainability, corporate governance and facts about the company.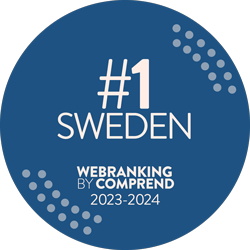 In this year's list, the 125 largest listed Swedish companies were ranked on how well their corporate websites meet the requirements of the target groups (the capital market and job seekers). Representatives of the target groups have answered what is expected from the websites and based on the answers, Comprend defines 50 core criteria for evaluating companies.
Sandvik received 86.4 points in this year's ranking, which is an increase of 4.3 points compared to the previous year.
"We are very pleased to have improved our results also this year, as we know that visitors' expectations are constantly increasing. We put a lot of work into continuously improving our website, not least because it is important in our and our customers' digital journey," says Björn Roodzant, Head of Communications and Sustainability at Sandvik.
NCC and Trelleborg came in second and third place respectively in the ranking and the average score was 49.1 for Swedish companies.
"We launched a new website in September, so this survey is based on the previous site, and we are working hard for the new website to receive even more points than the previous one," says Anki Hallman, channel specialist at Sandvik.
Read Comprend's analysis of the Swedish results