New crusher improves quarry efficiency and operator safety
Sandvik has launched a new crusher, Sandvik QI353, which is the most versatile, mid-sized mobile impact crusher available on the market. In response to customer research, the new crusher provides more uptime and connectivity as well as Improved safety.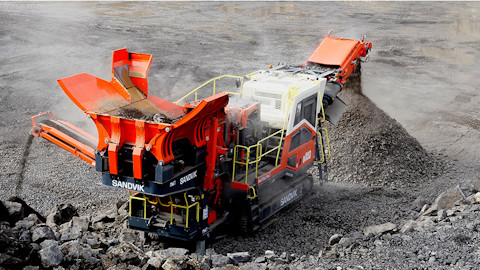 Sandvik QI353 crusher offers greater capacity and has a feed arrangement developed to reduce blockages and ensure continuous crushing. It is fitted with the latest generation fuel-efficient powerpack which provides maximum performance and cost efficiency. A key highlight is the new automation system, which includes simplified operation controls and total integration with Sandvik My Fleet telematics solution for remote monitoring of mobile crushing and screening equipment.
The crusher has been designed to consume both less energy and hydraulic oil. For operator safety, it is equipped with spacious platforms which provide safe access for service and maintenance.
The new impact crusher is the first in the 3-Series 3rd Generation crusher range from Sandvik and targeted at quarry, recycling and contractor segments.
Find more information on the website rockprocessing.sandvik: