Meet Sandvik 1/2019 has been published
A new issue of our corporate magazine Meet Sandvik has been published. Here we explore how lighter, stronger and more durable materials will shape the world of tomorrow.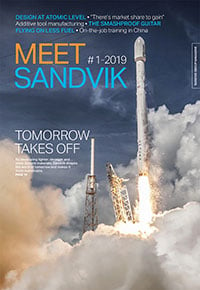 You will also find an interview with Göran Björkman, President of Sandvik Materials Technology and find out how Sandvik made the world's first smash-proof guitar.
Meet Sandvik 2019 1 (PDF document, 5.7 MB)