Smart steel winners announced
Sandvik and SSAB arranged an innovation challenge to find a solution for traceable steel. Mikael Sjödahl, professor at Luleå University of Technology in Sweden and Dr. Tobias Schmid-Schirling at the Fraunhofer Institute for Physical Measurement Techniques in Germany presented the winning solutions.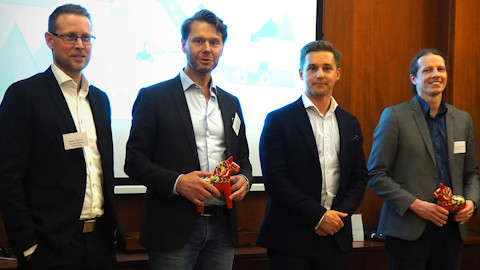 Finding a way to trace steel throughout its value chain has kept researchers busy for many years. Extreme heat, mechanical processing, deformation and corrosion are some of the harsh environments that has to be taken into consideration. Sandvik and SSAB invited researchers, companies and institutes across the globe to an innovation challenge.
Impressive innovation level
A total of 26 teams submitted proposals and on December 12, seven finalists from Sweden, Finland, Germany and South Africa pitched their ideas to a jury at Jernkontoret in Stockholm. The ideas included a broad spectrum of solutions, ranging from laser and direct part markings, digital twins, blockchain, algorithms, image-based microstructure identification to noise analysis and a global platform.
"The innovative level of the submitted proposals was impressive. We received several solutions that we had not even thought about", says Mattias Klockars, Manager at Sandvik Materials Technology's Strategic Research Lab and member of the jury.
The jury selected Mikael Sjödahl and Dr. Tobias Schmid-Schirling as winners of the challenge. Both presented marker-free tracking solutions:
Mikael Sjödahl's solution is based on a three-level optical solution where each level identifies the product through a unique pattern saved in a database.
Tobias Schmid-Schirling's solution is called a Track & Trace Fingerprint and captures the structural pattern of a product with a standard industrial camera, and encodes the high-resolution image into a numerical code for later identification.
Together with Sandvik and SSAB, Sjödahl and Schmid-Schirling will now start pilots to further develop their ideas.
About SmartSteel Innovation Challenge
SmartSteel Innovation Challenge is an initiative from Sandvik and SSAB, aiming at developing new ideas of how to trace steel throughout its life cycle. A fingerprint should act as a quality label, and provide useful information about the material, safety and durability among other things. The winner gets the chance to further develop the idea together with Sandvik and SSAB.
Read more