The last bolt replaced on the Vasa ship
After more than 4,000 rusty bolts have been replaced with specially constructed high-alloy stainless bolts from Sandvik, the job has now been completed. But every end is a new beginning – and now a whole new chapter for the Vasa ship is launched, with bolts that will last for at least 150 years.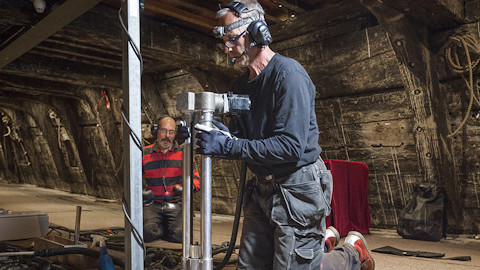 When Vasa was salvaged in 1961, the 17th century bolts that originally held the ship together had completely rusted away. New bolts were inserted where the original bolts were previously seated, but eventually they also started to rust.
"Replacing the bolts from the 1960s was necessary for the ship to survive in the future. The attacking rust had weakened the bolts and caused chemical reactions in the ship's wood," says Vasa Museum's director Lisa Månsson.
View film in Swedish showing a bolt replacement:
Vasa Museum realized that all the ship's bolts had to be replaced with another, better material to prevent the hull from collapsing. The museum began to look for a material which could secure the lifetime of the ship for at least a further hundred years and for a partner to collaborate with. Sandvik was chosen and in 2011, Vasa Museum and Sandvik initiated a unique and long-term research and development cooperation to save the national treasure Vasa.
Our goal is to preserve Vasa for a thousand years.
Together, a solution was developed with specially constructed, high alloy stainless bolts to replace the old 60s bolts. During the project, material specialists from Sandvik could help with everything from initial material discussions to measurements and evaluations, which showed that the new bolts were in line with expectations.
All the bolts have now been replaced and the warship Vasa can be saved for the future.
"Our goal is to preserve Vasa for a thousand years. By replacing the old rusty bolts, we have now set the conditions for future generations to experience the Vasa ship and engage in her rich history," says Lisa Månsson.
"We are extremely proud of our collaboration with the Vasa Museum and that, with the aid of our materials expertise, we have helped to save one of our most important national treasures," says Göran Björkman, President of business area Sandvik Materials Technology.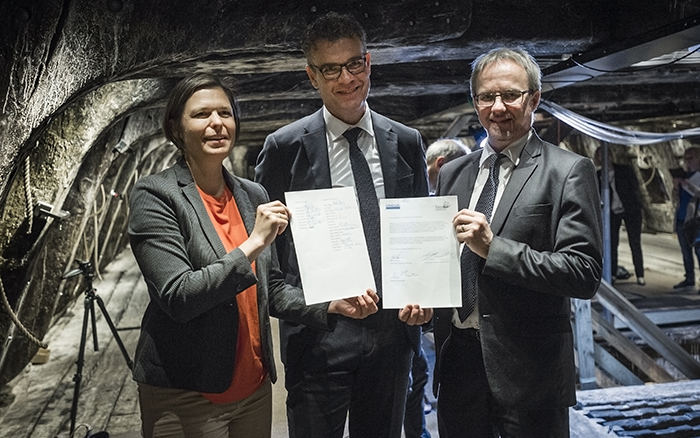 Lisa Månsson, Vasa Museum's director, Göran Björkman, president of business area Sandvik Materials Technology, and Leif Grundberg, superintendent at Swedish National Maritime Museums.
Read more about the joint research and development project on our website for stainless steel and special alloys