Promoting gender equality
The Sandvik India Gender Awards were created to support gender initiatives and recognize excellence and commitment to gender equality and diversity. On May 25, the winners of the second edition were announced in Pune, India.
The award recognizes individuals who have demonstrated exemplary leadership in promoting gender equality across the community. Vandana Chavan, Member of Parliament, was the chief guest and the keynote speaker of the event.
Developing women's potential will generate higher economic growth.
The grand jury for the awards were Ulrika Sundberg, Consul General of Sweden in Mumbai, Kamal Singh, Executive Director, UN Global Compact Network India and Sara Larsson, General Manager, Swedish Chambers of Commerce India along with Erwin Steinhauser, Managing Director for Sandvik in India.
Commenting on the award, Erwin Steinhauser said, "Developing women's potential by utilizing their talents and skills and reaching gender equality in opportunities and benefits, will generate higher economic growth".
Gender leadership required
Vandana Chavan gave her deep insights about the inequality in gender representation across different sectors in India. She shared that even in today's time, the number of women representatives in the Indian Parliament are extremely skewed and gender leadership is required, if we intend to have an equal society. She appreciated Sandvik's efforts in bringing a holistic transformation through the award platform and investing in gender concerns.
The response to the awards has been overwhelming with close to 400 applications received from eight different categories Independent, Not-for profit, community based organization, Corporate CSR, Corporate policy, Academia, Government and Social Venture.
Out of the applications received, 24 finalists were shortlisted and mentored by industry experts to share their powerful story with the grand jury. The grand jury selected the final eight winners, one from each category as the awardee for Sandvik India Gender Awards 2018.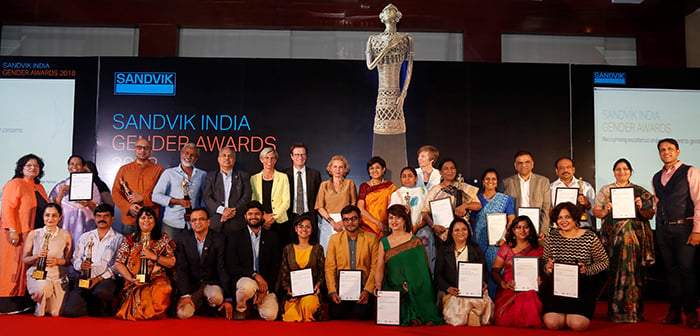 Eight winners were recognized for their contributions to gender equality, diversity and inclusion at the award night for Sandvik India Gender Awards 2018.