Successful collaboration challenged the norm
Making a radical change often requires challenging boundaries. This is exactly what happened when Sandvik and Prime Solutions teamed up to help a Swedish mine find a completely new way of working. The result: improved around-the-clock productivity and safety.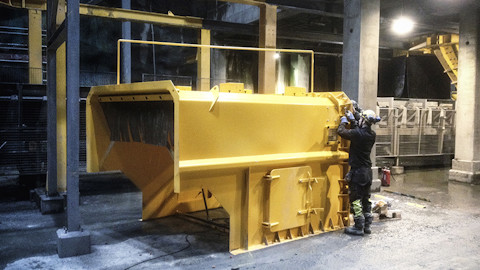 A common challenge in almost all mines is abrasion in the chutes used to transport the rock both from the crushing stage to the long belt conveyors and between the conveyors. Frequent maintenance stops are common, due to the extreme wear of the equipment. For one large mine in northern Sweden with a production rate of some 8,000 tons of rock per hour, every hour of standstill costs the company about SEK 1 million (USD 112,000). Keeping the mine running is critical.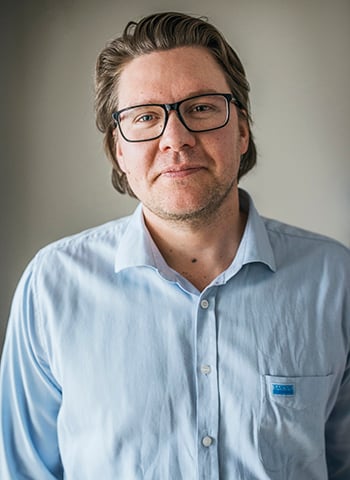 Oskar Larsson, Product Manager Wear Protection & Screening Media, Sandvik Mining and Rock Technology. Photo: Prime SolutionsA first reduction of unplanned stops was accomplished in 2009, when Sandvik implemented its HX900 cast in carbide in the mine chutes.
"Sandvik's HX900 composite lasts 15 to 20 times longer than any other material on the market," says Oskar Larsson, Product Manager Wear Protection & Screening Media at Sandvik Mining and Rock Technology. "It's absolutely unparalleled."
Unconventional solution
However, the new carbide casts could not solve the safety problems. The risk of falling rocks combined with dust, cold and high noise levels made maintenance work in the chutes unattractive and insecure.
In 2012, Håkan Zaar of Prime Solutions was invited to the mine to discuss the working conditions. His first idea was based on a previous solution he had created for a steel company. "My idea wasn't restricted by conventional mining boundaries, which was a bit surprising for the customer at first," Zaar says.
The customer accepted his initial idea, and Zaar contacted Oskar Larsson at Sandvik to discuss a solution. Zaar says he has appreciated working with Sandvik ever since he was 16 years old and the company sponsored him with material to renovate a steam locomotive.
"We wanted to get the maintenance work out from the chute itself," Zaar says. "It wasn't designed for such work, so neither safety nor the work environment were optimal. In addition, the crushers had to be stopped for each maintenance session, which was very costly."
Saving 300 hours of interruption
Since HX900 allows for longer time in operation, maintenance can be planned when crushers or conveyors are standing still for other reasons. In addition, the work could be moved from the mine to a separate workshop onsite.
We've created a solution that no one else can provide, thanks to Sandvik's unique material knowledge and Prime Solutions' system engineering competence
"The chute can be replaced during regular maintenance," Zaar says. "It saves valuable production time, reduces stress and increases both safety and the work environment."
Both mine management and employees are satisfied. They estimate that some 300 hours of interruptions can be avoided yearly, thanks to the new solution. The heavy and demanding job of maintaining chutes inside the dark and dusty mine has been replaced with a job that employees gladly sign up for.
Larsson is optimistic that the modular system will be of interest to other mine operators around the world.
"We've created a solution that no one else can provide, thanks to Sandvik's unique material knowledge and Prime Solutions' system engineering competence," he says. "It's a perfect match."