Apt redesign of a drill rod rack improves safety under ground
Byrnecut Australia is one of Australia's leading underground mining contractors. The company's promise to its customers reads "The safest future in contract mining," and to that end every incident is investigated seriously. When a drill rod came loose from a Sandvik mining vehicle in a deep underground gold mine, Darren Male and Mark Bannister, both from Sandvik, promptly began work to find a solution.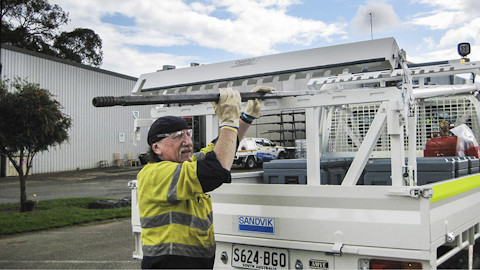 What happened?
Bannister: The bolt that holds the drill rod in the rack came loose. The drill rod then moved forward and dislodged from the rack and smashed the windscreen. Nobody was hurt, but it was a near miss. The incident made us realize a weakness in the design. The customer immediately initiated an investigation that we were part of, but we also had to find a fast and safe solution to make sure this did not happen again. We solved the immediate standstill within 48 hours but also started to create a more robust, long-term solution.
How did you come up with the final solution?
Male: We basically started from scratch. Mark and I spent quite a lot of time in front of the whiteboard tossing ideas back and forth and talked to a lot of people, both on site and among our colleagues. We also engaged an engineer and a safety professional and finally, together with them, developed a solution. It took about five months from the incident until we had a complete solution.
What were the success factors?
Bannister: We worked very closely with the customer, and they really wanted us to find a solution. In addition, our manager, Craig Johnston, supported us 100 percent with all the time and resources we needed.
Is the customer satisfied?
Male: Yes! They were concerned when it happened but have been really supportive during the process. Right now, we are replacing the rod holders on all of our vehicles. We are also getting requests from other markets that are interested in the new design.