Sandvik stainless steel in challenging tunnel construction
When NSB AS, the Norwegian state-owned railroad company, started building a high-speed railway, creating a triangle from Oslo to southern Norway and then up to Bergen, navigating the scenic attractions required a great deal of innovative thinking as well as experienced partners.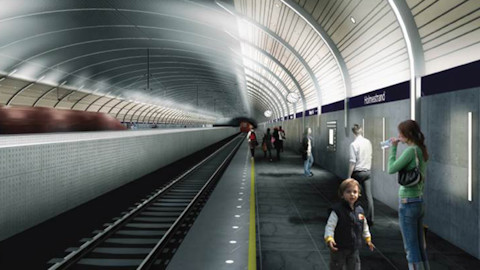 The construction company Hollandia was commissioned to provide the ceiling construction inside the Holmestrand station. The town itself is situated on top of a mountain, and the station is located in the mountain tunnel at sea level.
To ensure safe construction, construction company Hollandia looked for a corrosion-resistant material with high strength. The solution can be seen as a ceiling suspended from the rock in adjustable hangers made of duplex hollow bar.
"Duplex stainless steel is unbeatable if you want a corrosion-resistant material with excellent mechanical properties. Maintenance-free Sanmac™ 2205, with its long life and low weight, was a perfect match for Hollandia," says Christer Thorsson, Global Product Manager for hollow bar at Sandvik.
Thorsson means that the Holmestrand project is a great reference for Sandvik.
"It continues to build our brand as the unrivaled expert of duplex stainless steel."