New Sandvik bloggers and new blog platform
No one knows Sandvik better than the employees of our company. By passing the pen to our Sandvik colleagues around the world and letting them write about their daily work, we can give people a sneak peek into our world. But it also give our colleagues a better understanding of what it is like to work in other departments, business areas and countries.
"The blog provides an inside look at things from the perspective of our employees," said Yvonne Strandberg, Global Employer Branding Manager. "We have had a steady increase in followers, with almost 10 000 unique visitors since we started it in December of 2013.
We hope you will find it interesting to follow our Sandvik bloggers! First out are Anna Malycheva, one of this year's Global Trainees, and Muzaffer Bayazitoglu, Sales Manager North Europe, Rock Tools, Sandvik Construction. The first blog posts are already published!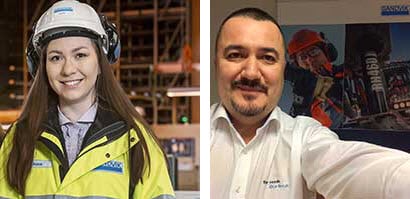 The new version of our employee blog can be found at Sandvik.com/blog.