An industry gear shift
The automotive industry is growing rapidly, particularly in Asia. With growing environmental concerns, the challenge for the automotive industry is to produce energy-efficient cars with lower emissions. Sandvik is partnering with the automakers to enable sustainable growth.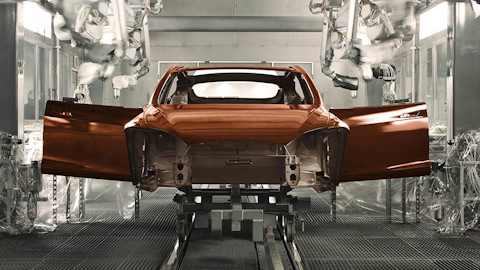 WardsAuto, which has published reports about the automotive industry since 1924, predicts that car sales will increase globally from 88 million cars in 2013 to 107 million in 2020. That's more than three cars sold every second. Shorter product life cycles, consumers' desire for a more personal design, increased connectivity and environmental focus are factors that are changing conditions for the industry. They also affect production.
"The production of cars is increasing in emerging markets such as China and India, while the development in traditional automotive countries, for example Europe, Japan and the US, is substantially slower," says Mattias Nilsson, Program Manager Automotive at Sandvik Coromant. "That's one of the principal trends we see."
Johan Luuke, Business Project Manager Automotive Transmission at Sandvik Coromant, agrees and adds that the trend includes both geographical and machining aspects. "Our customers are moving from rigid transfer lines to more flexible machining centers and often unmanned production," he explains. "This development calls for reliable cutting tools that last longer, often for a whole shift, with maintained quality."
The use of lighter and more complex materials that can withstand higher pressures is a trend that comes with environmental concerns. Demand for powerful engines with lower emissions calls for higher output and lower weight.
"Environmental concern is driving the automotive industry," says Jari Ponsiluoma, Global Product Manager, Automotive Tube, Sandvik Materials Technology. "We will see more hybrids and electric cars on the streets in the future. However, internal combustion engines will dominate for many years to come."
One way of producing lighter cars is to replace cast iron engine blocks with aluminum. To meet this need, Sandvik is developing tools for aluminum machining that are dedicated to the automotive industry.
"We must be at the forefront and offer solutions for tomorrow's requirements, even though cast iron will dominate for many years to come," says Nilsson. "That's our way to stay competitive and to be the natural partner for the industry."
Gasoline direct injection (GDI) is an efficient technology that enables higher output in a machine. High-pressure GDI fuel systems are already used in more than 500,000 engines on the road, including Ford EcoBoost engine series. Sandvik has developed a unique material for GDI fuel systems that has received innovation awards in both China and the US.
"Pressurfect® XP Seamless stainless tube is the only material for GDI fuel systems on the market today that can withstand the high pressures of tomorrow's cars." says Ponsiluoma.
Both the move toward more complex production and the demand for advanced materials are good news for Sandvik. "Collaboration with competent partners is getting more and more important for the automotive companies, from research and development throughout the whole supply chain," says Luuke. "Competition is intense, and you always have to be one step ahead to succeed in this industry. We have the expertise in both material technology and manufacturing."