Nobel Prize exhibition moves to India
Sandvik is sponsoring the touring exhibition The Nobel Prize: Ideas Changing the World, along with Ericsson, Saab, Volvo, Scania. One year after the opening, the exhibition now moves from Brazil and Sweden to India. It was officially inaugurated by former Indian President Dr. APJ Abdul Kalam in New Delhi.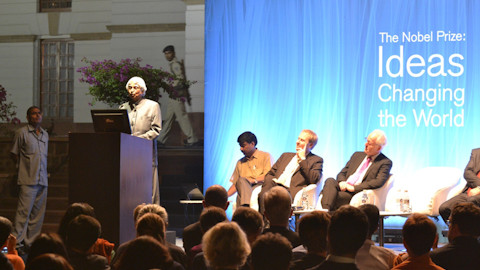 The exhibition tells the story about Alfred Nobel, the Nobel Prize, and how the Nobel Prize-awarded work has influenced our world and continues to change it. The Nobel Museum in Stockholm owns the exhibition and launched it in São Paulo, Brazil, in November 2013. It consists of five pavilions, each with a different theme:
The Nobel Prize and its areas
Alfred Nobel, his inventions and industrial operations, and the background to his will
The Nobel Prize over the decades
The Nobel Prize in our daily lives
The Nobel Prize and the future
Being a sponsor, Sandvik had the chance to welcome customers to the royal inauguration in Brazil in 2013 and has since then invited approximately 250 students and customers to the exhibition, as well as activities for employees and families at the Nobel Museum in Stockholm.
Now, the exhibition has moved to the Nehru Memorial Museum and Library in New Delhi, India. It was inaugurated on 30 October and opened for the public the day after.
Former Indian President Dr. APJ Abdul Kalam officially opened the exhibition and Kailash Satyarthi, 2014 winner of the Nobel Peace Prize, was also present.
During the six weeks in India, a number of events will take place along with the exhibition. Sandvik and the other sponsors will attend the inauguration, Nobel Prize seminars with Nobel Laureates, workshops about creativity, innovation and problem solving from a historical Nobel Prize perspective along with other events in New Delhi and other cities in India.
¬Sandvik's founder, Göran Fredrik Göransson was a contemporary of Alfred Nobel and the two Swedish industrialists shared the passion for innovation. They both had the courage to invest everything for an invention they truly believed in.
– Partnering with the Nobel museum and this exhibition is valuable for Sandvik, as it strengthens one of our core values: Innovation, and gives us the possibility to connect with our stakeholders in a new and inspiring way, says Inger Östblom, project manager for the Sandvik participation in this project.
Olof Faxander, President and CEO, Olle Wijk EVP R&D, Jessica Alm EVP Communications and Parag Satpute, Sandvik Country Head India at the Nobel Prize Exhibition, sponsored by Sandvik.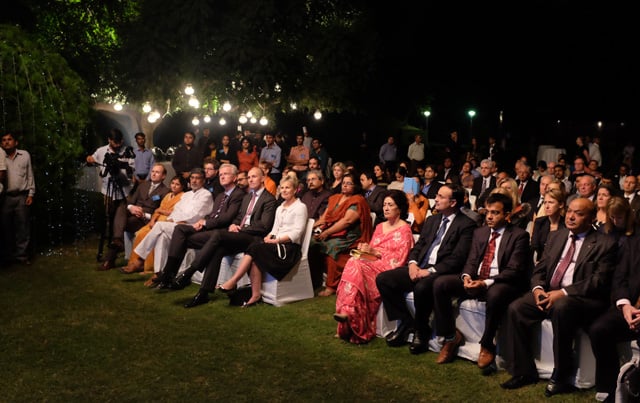 The inauguration of the touring exhibition The Nobel Prize: Ideas Changing the World, in New Delhi, India.