New Head of Investor Relations
Ann-Sofie Nordh has been appointed new Head of Investor Relations at Sandvik.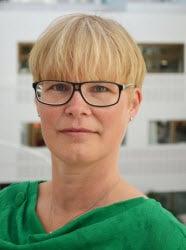 Ann-Sofie NordhAnn-Sofie Nordh has been with Sandvik since early 2014. Her background comprises 20 years of experience from the financial market, most recently in a position as responsible for Nordea Equities Corporate Services. Previously, she was with Nordea Markets and Alfred Berg as an analyst, focusing on Swedish industry groups.
Magnus Larsson, Sandvik's current Head of Investor Relations, will take on a position leading business development projects in Sandvik, and continues to report to Chief Financial Officer, Mats Backman.
Ann-Sofie Nordh and Magnus Larsson will take on their new roles as of November 1st.
For further information contact Pär Altan, Head of External Communications, Sandvik AB, tel +46 8 456 12 37 or Magnus Larsson, Head of Investor Relations, Sandvik AB, tel +46 8 456 12 40
Stockholm, 8 October, 2014
Sandvik AB
New Head of Investor Relations (PDF)