Clean, sustainable energy through fuel cells
While regular cars produce a great deal of harmful carbon dioxide emissions, a car powered by fuel cells emits only clean water. In addition, a fuel cell car is considerably quieter than a conventional car, as it has an electric motor instead of an internal combustion engine.
No harmful emissions. Less noise. And still, only a small fraction of cars in the world today are fuel cell cars.
Fuel cells, which use hydrogen to generate electricity, can be used wherever a battery is required, from mobile phones to whole cities. Portable fuel cell chargers are already available on the market, and the automotive industry is standing on the doorstep to adopt it. The technology is fairly new, and most automakers are investigating how to mass-produce fuel cell cars cost-efficiently. Governments and companies are also committing to establish distribution networks for hydrogen refuelling stations.
Sandvik contributes with material technology
One important goal in the development of tomorrow's fuel cells is to optimize the lifespan and performance of the fuel cells in order to ensure a high degree of electrical efficiency. Sandvik develops advanced stainless steels and alloys for the most demanding industries and applications. The company has developed a technology for the material in the plates that connect the electric cells in the fuel cells. The solution is a combination of stainless steel plates and a corrosion-resistant coating.
"The fuel cell industry is a growing market in which we have a unique position and where we can realize our vision to set the industry standard," says Petra Einarsson, President of business area Sandvik Materials Technology. "In Sandviken we have a full-scale plant fully prepared for fuel cell technology to take off."
Joint venture with the Sandviken municipality
Sandvik wants to bring fuel cells not only into cars but also into other aspects of our daily lives, and thus has formed a joint project with Sandviken's municipality in Sweden, aimed at demonstrating the potential of fuel cells and spreading the knowledge of a promising technology that is growing worldwide. The project is called "Save the planet – Use more fuel (cells)."
Sandvik is the first Swedish company to launch such a project in conjunction with a municipality, a move that is aligned with Sandvik's strategic commitments to innovation and sustainability.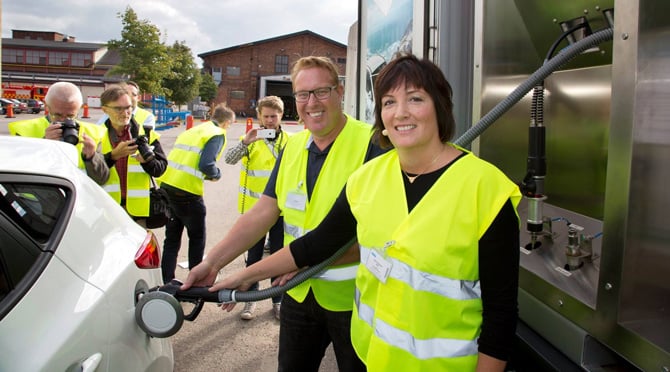 Petra Einarsson, President of Sandvik Materials Technology and Peter Kärnström, Mayor of Sandviken Municipality filling up the fuel cell car with hydrogen.