Sandvik strengthens KTH, Royal Instititute of Technology in Sweden
Dr. Bo Rogberg, Senior Expert and Strategic Advisor at Sandvik Materials Technology, has been appointed Adjunct Professor at KTH within the area Casting of Metals.
KTH appoints Bo Rogberg as Adjunct Professor to strengthen the theoretical competence in solidification, in particular casting of metals, stating that Bo "has played a central role in the wider metallurgic advancement of high-performance steel, at both Sandvik and other companies". Bo Rogberg has deep knowledge from the area having worked at Sandvik Materials Technology for 33 years, and successfully combines theory with practice in production. Bo Rogberg´s achievements in the area were also recognized in autumn 2013 when he received a prestigious gold medal from KTH.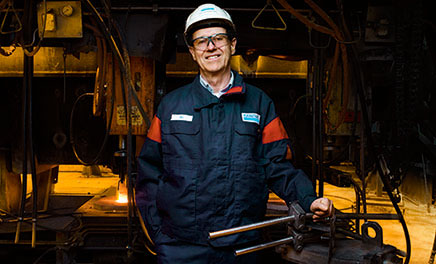 "I am very proud that we can contribute with Bo´s extensive experience in the field of casting of metals", says Olle Wijk, Head of R&D at Sandvik. "The appointment enables us to support research in an area vital to Sandvik, at the same time strengthening the recruitment base for engineers which is crucial for the future development of our company."
"It has been 33 years since I left the institution for Casting of Metals at KTH and joined Sandvik", Bo Roberg adds. "I believe and hope that I can contribute to KTH with my industrial experience thus developing the education within this field."
Facts Adjunct Professor role
Adjunct Professors are employed by the company (Sandvik) and have a part time employment with the university. The role entails tutoring doctorates, lecturing and mentoring younger researchers.
Strategic partnership with KTH
In the beginning of 2014 Sandvik and KTH signed an an agreement to further strengthen research activities between us and the university. The aim of the collaboration is to strengthen Sandvik´s recruitment base for engineers and researchers and contribute to raising competence in casting steel.
Related articles