Oil and gas customer prepared for the future
ARC Specialties in Houston, Texas – in the heart of Americas "oil patch" – is known worldwide for expert service in automated welding. The company relies on its supplier and partner Sandvik to move into the future of the oil and gas industry, with its associated tougher demands.
Dan Allford started ARC Specialties in his garage in 1983. Today he oversees 75 people on a 75,000-square-foot (6,900 square meter) campus. The company designs and builds automated welding machinery for the oil and gas industries, as well as for construction and defense. ARC also offers consulting, laboratory and technical services.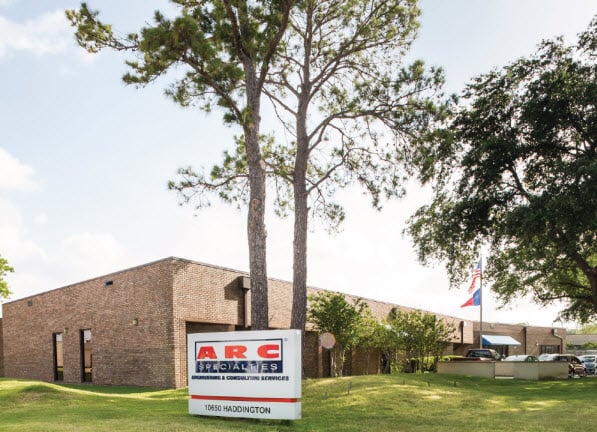 ARC Specialties – Engineering & Consulting Services Division in Houston, Texas
"Customers don't bring us a request for a quote, they bring us a problem," says Allford. "Failure is not an option in the oil patch – the cost of failure is much too high – so we test everything here in the laboratory."
In today's energy industries, dril¬ling must go deep beneath the earth's surface where oil and gas reserves are high in hydrogen sulfide. The chemical environment creates a corrosivity that can quickly eat through drill steels and piping. ARC Specialties strengthens the metal drilling equipment by welding alloys onto the steel to extend its lifespan.
"We don't take the easy jobs," says Allford. "Today the problems we're trying to solve with high technology exceed the capacity of any one given material. The corrosivity in the oil fields gets more and more challenging, so we need to work with a supplier that can provide advanced material science. We're combining the properties of high-strength steel with corrosion-resistant alloys. We do that by overlaying steel with alloys using my machinery."
ARC's engineering consultants work closely with each client to develop, test and qualify the necessary equipment.
"All welding consumables are not equal," says Richard Holdren, ARC engineering consultant. "They all have to meet the same commercial specifications, but the manner in which they operate may not be the same. There's been constant research to develop new alloys to deal with environments where we need more protection than stainless steel will provide. Strength is critical. Having Sandvik and application spe¬cialists such as Frank Babish available to give us insight into which materials will work best in different settings, with different gases and alloy compositions, helps us determine what will give us the best end result."
ARC has dedicated cladding machines all over the world, but Allford is now exploring robotic techniques that will, he anticipates, revolutionize the industry.
"Our theory is that ultimately this will become a robot application," he says. "What we're starting to do here in the laboratory is develop robots to take over some of our dedicated cladding equipment applications. We're not replacing human jobs – all our machines have a human operator – but typically we can do better with a robot than we can with a human being. The parts we're working on here are preheated to a minimum of 400 degrees Fahrenheit [204 degrees Celsius]. It's not a job anyone wants. Robots don't seem to mind a bit, though, so we let them do it."
Allford's keen business sense extends to the foundation of his company and his field. Not only does he provide reliable products, but he's also commit¬ted to reshaping his industry. One way of doing this is building for the future, ready for a new generation to take over the manufacturing industry. Today ARC trains high school students in robotics and offers internships to college stu-dents in software and mechanical and industrial engineering. He has employed two former interns, and employees interested in continuing education receive tuition assistance. He has also instituted a company-wide reuse and recycling program and pioneers energy-efficiency initiatives in his welding operations. Allford encourages other industry leaders to get involved.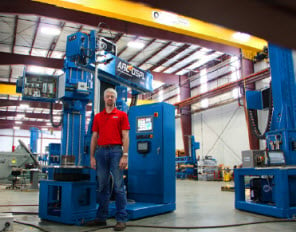 An arc weld cladding system developed by ARC Specialties