Going deeper and deeper
While the world searches for renewable energy sources, demand for oil and gas is increasing. Sandvik works closely with customers around the globe and strives to be one step ahead, prepared for ever tougher demands – actually, the tougher the better.
When train conductor Edwin Drake found oil 23 metres below the surface in Titusville, Pennsylvania, US in 1859, it was a real breakthrough. More than 150 years of exploration and extraction later, the easily accessible wells are more or less depleted. Today drilling depths of 3,000 to 5,000 meters below the ground or seabed are required to find both oil and gas. For Sandvik, such conditions are good news.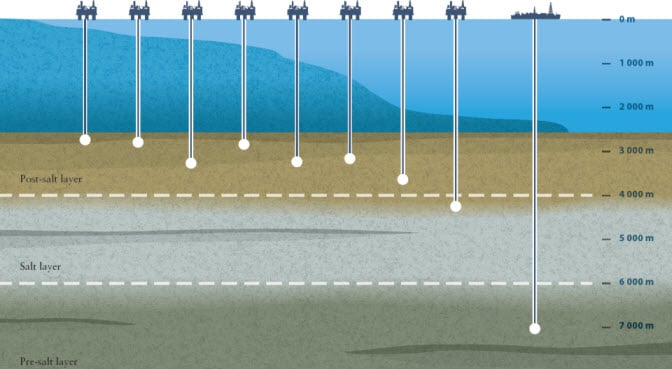 The Santo Basin (Lula) outside Brazil is the deepest discovery so far. How deep can we go? Source: Petrobas
"Our strategy has always been to develop materials for the most challenging environments, which means offshore and deep water," says Nigel Haworth, Business Unit Manager, Oil and Gas at Sandvik Materials Technology. "The sour conditions require complex infrastructure produced from very capable materials, such as corrosion-resistant alloys."
Sandvik provides products and solutions for both on-shore and off-shore excavations. The signed agreement with Varel International Energy Services is the latest addition to the portfolio.
Oil and natural gas account for nearly two-thirds of the total world energy consumption. The International Energy Association predicts global increases in demand of 13 percent for oil and 17 percent for gas by 2035. As existing fields are depleted, there is continual demand for exploration and production.
Per Forssell, Business Segment Manager, Energy at Sandvik Coromant agrees with Haworth: "The more demanding the better for Sandvik," he says. "If it was easy, anyone would be able to deliver solutions. Larger components made of complex materials that can withstand extreme environments for many years demand a truly competent partner. With our long experience and strong focus on research and development, we can meet the challenges – today and tomorrow."
The fossil fuel we drill for today has its origin in decayed organic material from millions of years ago stored in bedrock. Some of the oil and gas wanders through the bedrock and can appear at the surface, but more often it is captured by impermeable rock somewhere along the way. It is in such traps that we can find oil and gas.
For the construction of underground oil storage caverns with associated tunnels and shafts, Sandvik offers rock excavation equipment, rock drilling tools and service, such as underground drilling jumbos and surface drilling rigs, as well as crushing and screening equipment and conveyor belt systems.
"The Sandvik DT series drilling jumbos really make a difference to our oil and gas customers," says Pekka Salminen, Area Manager, Tunneling Drills, Sandvik Construction. "They are designed for large-scale excavation with high drilling performance, excavation accuracy, product safety, quality and user-friendliness in mind."
Facts oil and gas
Oil is mostly needed as fuel for transportation, such as in cars and airplanes, but also for the chemical, pharmaceutical and agricultural industries. Natural gas is used in industrial processes, as power for heating buildings and as automotive fuel. Additionally, general consumer goods, such as cleaning products, plastics and electronics, require resources processed from crude oil.